Environmental Screening Levels
The Environmental Screening Levels (ESLs) provide conservative screening levels for over 100 chemicals found at sites with contaminated soil and groundwater. They are intended to help expedite the identification and evaluation of potential environmental concerns at contaminated sites. ESLs address a range of media (soil, groundwater, soil gas, and indoor air) and a range of concerns (e.g., impacts to drinking water, vapor intrusion, and impacts to aquatic habitat). The ESL documents are prepared by staff of the San Francisco Bay Regional Water Quality Board (Water Board). Information provided in these documents is not intended to establish policy or regulation. Also note that, in general, ESLs are not used at sites subject to the Low-Threat Underground Storage Tank Closure Policy.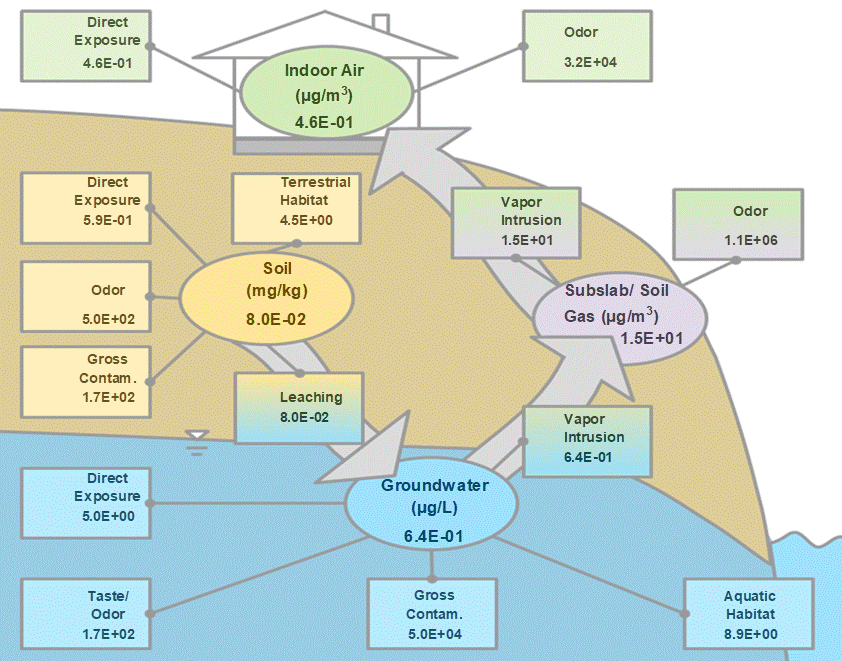 Update Process
Major updates and minor revisions to the ESLs will be posted to this website when needed. The current major update (e.g., Jan. 2019) and minor revision (e.g., Rev #) version is listed on the top of the Table Index and in the footer of each sheet within the ESL Workbook. The following link provides the current revision number and lists the most recent changes for that revision.
Perfluorooctane Sulfonate (PFOS) and Perfluorooctanoate (PFOA) ESLs have been developed and are presented in the following memorandum. We plan to incorporate these interim final ESLs into our ESL Workbook and User's Guide as part of the next major ESL update.
Electronic Mailing List for Updates
When ESLs are updated or revised, we send an email notification to ESL mailing list subscribers. You can join the ESL mailing list by clicking the link below. Once there, check the ESL box under the General category.
Environmental Screening Levels (ESLs) Content
The ESL documents can be requested via email. Please email ESLs.ESLs@waterboards.ca.gov with "Request for ESL Documents" in the subject line to receive the most current version of the following ESL documents:
Cover Memo - Identifies notable changes in the latest ESL update.
User's Guide (2019) - Explains the derivation and use of ESLs.
ESL Workbook (2019) - The ESL Workbook (Microsoft Excel for Office 365) consists of four parts: Summary Tables, Interactive Tool, Calculations Tables, and Input Parameters Tables. User's Guide Chapter 2 describes how to use the ESL Workbook.
ESL Summary Tables (2019) - Includes a PDF version of the ESL Summary Tables for Groundwater, Soil, and Vapor (Subslab/Soil Gas and Indoor Air) and Short-Term Trichloroethene (TCE) Action Levels from the ESL Workbook.
Frequently Asked Questions (2019) - Answers common questions.
Vapor Intrusion Updates
At the request of CalEPA, a workgroup consisting of members from the State Water Resources Control Board, the San Francisco Bay Regional Water Quality Control Board, the Department of Toxic Substances Control (DTSC), and the Office of Environmental Health Hazard Assessment (OEHHA) are developing a supplemental vapor intrusion guidance document for conducting uniform vapor intrusion evaluations in California. This supplemental guidance is expected to provide information on the following topics:
Soil gas, subslab, indoor air, and outdoor air sampling recommendations to understand spatial and temporal variability
Sewers as a potential migration route and pathway of exposure
Recommendations for use of USEPA 2015 attenuation factors for screening
Risk management framework for vapor intrusion
Development of a California-specific vapor intrusion database
The supplemental vapor intrusion guidance is anticipated for release as draft for public comment during 2019. Following release, members of the CalEPA VI workgroup will hold public workshops in northern and southern California. Further information regarding vapor intrusion is available on the State Board Vapor Intrusion Webpage:
https://www.waterboards.ca.gov/water_issues/programs/site_cleanup_program/vapor_intrusion/
Technical Resources
Contacts
For further information about ESLs and risk assessment contact:
Nicole Fry
SF Bay Regional Water Quality Control Board
1515 Clay Street, Suite 1400
Oakland, CA 94612
Tel: 1-951-320-6366
Email: ESLs.ESLs@waterboards.ca.gov