Diazinon and Pesticide-Related Toxicity in Urban Creeks TMDL
Background:
In the 1990s, San Francisco Bay Area urban creeks were found to exceed water quality standards for aquatic toxicity, primarily due to runoff of the common insecticide diazinon. Diazinon was commonly used throughout the Bay Area to manage a broad spectrum of pests, such as ants and grubs.

In order to examine the water quaity problem, identify sources of Diazinon, and set forth actions that would lead to a solution, a TMDL was designed for Diazinon and Pesticide-Related Toxicity in San Francisco Bay Area Urban Creeks.

As the TMDL was being developed in the early 2000s, it was evident that other pesticides with equal or greater aquatic toxicity would replace diazinon in the marketplace. Therefore, the TMDL addresses pesticide-related aquatic toxicity in general, regardless of which pesticide causes the toxicity or when the toxicity is discovered.

In 2010, Kirker Creek in Contra Costa County was found to be impaired by toxicity caused by pyrethroid pesticides, which are a category of pesticides that have replaced diazinon in the marketplace. The toxicity found in Kirker Creek is being addressed through implementation of this TMDL.

UC Davis IPM Program Drawing
TMDL Basics

The Diazinon and Pesticide-Related Toxicity in Urban Creeks TMDL was adopted by the Water Board on November 16, 2005 and State Water Resources Control Board on November 15, 2006. The TMDL was approved by the State Office of Administrative Law and became effective on January 28, 2007. On May 21, 2007, the U.S. Environmental Protection Agency (U.S. EPA) approved a Basin Plan amendment incorporating a TMDL for Diazinon and Pesticide-Related Toxicity in Urban Creeks and an implementation plan to achieve the TMDL.
To address pesticide-related toxicity in urban water bodies, the TMDL contains a comprehensive implementation strategy. Federal, State, and local agencies, and others, are called on to take actions to reduce the potential for pesticides to runoff into waterways. Implementation actions focus on three areas:
Regulatory programs. We foster interaction between the Water Boards, California Department of Pesticide Regulation (DPR), U.S. EPA, and permitted dischargers with the aim of ensuring that pesticides are not applied in a manner that results in discharges that could harm the quality and threaten beneficial uses of urban creeks.
Outreach. Various types of outreach are required in permits the Water Board issues.
Research. Studies encompass emerging pesticides; analytical methods; pesticide toxicity to aquatic species; monitoring our water bodies; and more.
TMDL Requirements in Municipal Regional Stormwater Permit
The NPDES Municipal Regional Permit (see Provision C.9), adopted November 19, 2015, requires municipalities in Alameda, Contra Costa, San Mateo and Santa Clara Counties and the cities of Fairfield-Suisun and Vallejo to take TMDL implementation actions. These Permittees have adopted Integrated Pest Management policies for properties they own or operate. They also must encourage residents to avoid using pesticides that pose a threat to water quality (see Education and Outreach below). To see annual reports in which Permittees summarize their recent efforts, click here. Water quality reports required by the permit are here.

Permittees also sample their creeks for toxicity and pesticides in water and in sediment, to which pesticides often adhere. If samples exhibit toxicity, Permittees will conduct studies to determine whether the toxicity is caused by pesticides or by another source. The data may be used to determine how well the TMDL is being implemented and whether additional actions are needed.

Pesticide Regulatory Programs
Examples of interactions with pesticide regulators are shown here.
As pyrethroid pesticides use increased in urban areas in the 2010s, the Water Boards discussed potential wide-spread impacts to aquatic life with the California Department of Pesticide Regulation (DPR). In 2012, DPR adopted Urban Surface Water Protection Regulations that require actions to minimize potential contamination of surface water from certain urban pyrethroids usage. In addition, DPR has developed a model to evaluate aquatic impacts of pesticide products submitted for registration.

Since the time of the TMDL development, Water Board staff have commented when pesticides with the potential to harm water quality are under review by the U.S. EPA or DPR. These letters provide monitoring data, request specific analysis of the fate and transport of the pesticide to surface water, and/or comment on U.S. EPA's modeling inputs, for
example. Staff submitted nearly 75 letters on pesticide registration actions from mid-2011 through mid-2017.

Municipal Stormwater Permittees' (See Municipal Regional Permit above) work collectively through the California Stormwater Quality Association (CASQA) to participate in pesticide regulatory actions. Recent annual summaries of outcomes of this work are presented here and here.

Wastewater dischargers work collectively through the Bay Area Clean Water Agencies (BACWA) to "weigh in" on toxic pesticides that can enter wastewater treatment plants. See BACWA's Pesticide Regulatory Update and Call to Action for more details.



Outreach and Integrated Pest Management
Integrated Pest Management (IPM): IPM is an ecosystem-based strategy that focuses on long-term prevention of pests or their damage through a combination of techniques including biological controls and habitat manipulation. Pesticides are used only after monitoring indicates they are needed according to established guidelines. Pest control materials are selected and applied in a manner that minimizes risks to human health, beneficial and nontarget organisms, and the environment. A more detailed definition can be found in the San Mateo Countywide Water Pollution Prevention Program's IPM policy. IPM techniques could include biological controls, physical or mechanical controls, cultural controls, and reduced risk chemical controls.
Research shows that pesticides applied around homes according to label instructions can and do lead to toxicity in local water bodies. Education and outreach initiatives funded by State grants, wastewater and stormwater dischargers, and others promote the behavior change necessary to reduce this threat of pesticide-related toxicity in our creeks. These initiatives include:
Our Water - Our World provides materials, including fact sheets displayed at Bay Area hardware stores, free app, and pocket guide to help consumers control home and garden pests in a way that protects water quality.
BayWise.org, hosted by Wastewater and Stormwater Dischargers, provides useful information on preveting all types of pollution where we live, work, and play, including how to find a certified pest control professional near you.
Research & Monitoring

As required by their permit (see above), Municipal Stormwater Permittees sample their creeks for pesticides and toxicity. Creeks are monitored on a rotating basis, so year-to-year direct comparisons are not possible. In Water Years 2015 and 2016 the locations starred on the map below were sampled. The black dots show where the CA Department of Pesticide Regulation sampled. Selected results are summarized in this Status Report and more details are provided in Urban Creek Monitoring Reports.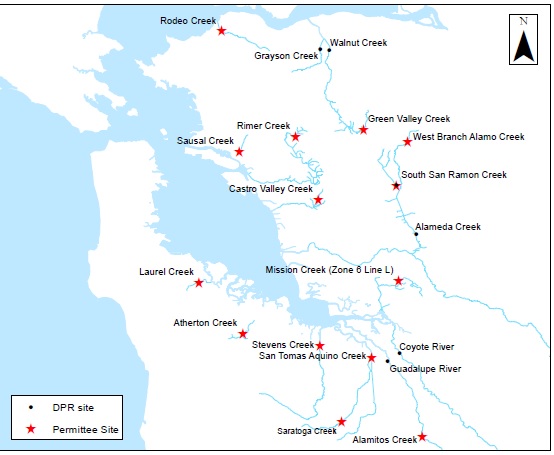 Select research and monitoring reports:
Staff Updates
Periodically, staff updates the Water Board on the status of these implementation actions:
Links
Links are for your information and do not indicate an endorsement by the Regional Water Quality Control Board.

Water Quality Monitoring
Pesticide Regulation
Pesticide Information
Integrated Pest Management & Less Toxic Alternatives
For more information contact:
Rebecca Nordenholt
Environmental Scientist
Rebecca Nordenholt@waterboards.ca.gov