Site Cleanup Program
The Site Cleanup Program (SCP) regulates and oversees the investigation and cleanup of non-federally owned sites with recent or historical unauthorized releases of pollutants to the environment, including soil, groundwater, surface water, and sediment. In addition to SCP, the Water Boards oversee two other cleanup programs: Underground Storage Tank Program and Department of Defense Program.
Table of Contents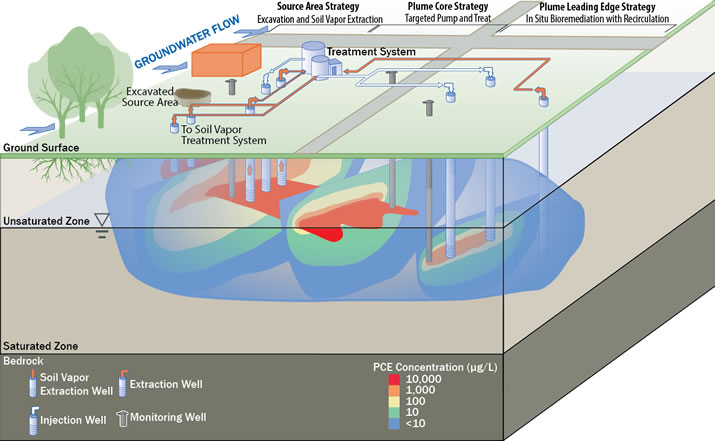 Authority and Policies
The Water Code provides authority for the Water Board to require investigation and cleanup of sites with unauthorized pollutant releases. Water Code Section 13267 allows the Water Board to require technical reports from suspected dischargers.
Water Code Section 13304 authorizes the Water Board to issue "cleanup and abatement" orders requiring a discharger to cleanup and abate waste, "where the discharger has caused or permitted waste to be discharged or deposited where it is or probably will be discharged into waters of the State and creates or threatens to create a condition of pollution or nuisance." The Water Board coined the term "site cleanup requirements" (SCRs) to describe Water Code Section 13304 orders where soil or groundwater cleanup would take many years to complete and the dischargers are cooperating. Water Code Section 13304 authorizes the Regional Water Boards to recover costs for oversight of site cleanup at sites where a discharge of waste has occurred and that discharge creates, or threatens to create, a condition of pollution or nuisance.

State Water Board Resolution No. 92-49, "Policies and Procedures for Investigation, Cleanup and Abatement of Discharges Under Water Code Section 13304"; Resolution No. 68-16, "Statement of Policy with Respect to Maintaining High Quality of Waters in California"; and Resolution No. 88-63, "Sources of Drinking Water", contain the policies and procedures that all Regional Water Boards follow to oversee and regulate investigations and cleanup and abatement activities resulting from all types of discharge or threat of discharge subject to Water Code Section 13304.
The Water Board also complies with requirements in the state Health and Safety Code and the federal Superfund law at federal Superfund sites where the Water Board is the lead agency.
The Cleanup Process
The five basic steps of Site Cleanup are as follows:
Preliminary site assessment to confirm the discharge and the identity of the dischargers; to identify affected or threatened waters of the state and their beneficial uses; and to develop preliminary information on the nature and vertical and horizontal extent, of the discharge;
Interim corrective actions taken early in the process to remove contaminant mass or promptly mitigate health threats. Soil excavation or source removal can often cost effectively remove contaminant mass, preventing ongoing migration which may result in more expensive cleanups later on. If drinking water wells are impacted or chemical vapors are migrating into buildings treatment or mitigation needs to be provided to protect public health.


Soil and water investigation to determine the source, nature, and extent of the discharge with sufficient detail to provide the basis for decisions regarding subsequent clean-up and abatement actions, if any are determined by the Regional Water Board to be necessary. A risk assessment may be conducted to evaluate site specific receptors and exposure pathways and determine cleanup goals.


Proposal and selection of cleanup action to evaluate feasible and effective cleanup and abatement actions and to develop a preferred cleanup and abatement approach;


Implementation of the selected cleanup and abatement action ; and


Listed below are additional features and tools used in the SCP program to aid the cleanup process. 
Public Participation – The Water Board will provide opportunities for public participation in the oversight process so that the public is informed and has the opportunity to comment. The level of effort is tailored to site-specific conditions, depending on site complexity and public interest. The level of public participation effort at a particular site is based on the potential threat to human health, water quality, and the environment; the degree of public concern or interest in site cleanup; and any environmental justice factors associated with the site.
Electronic Data Reporting – The State Water Board maintains GeoTracker, a web-based geographic information system (GIS) program that provides the public and regulators with online access to environmental data. GeoTracker is available online at http://www.geotracker.waterboards.ca.gov. The State Water Board adopted regulations that require electronic submittal of information for groundwater cleanup programs (Title 23, CCR, Division 3, Chapter 30).

Compliance Monitoring – Monitoring reports are required periodically that describe the status of the cleanup activities and monitoring results. The Water Board will conduct site inspections to verify whether the responsible party is complying with Water Board enforcement directives.
Deed Restrictions - A deed restriction (also known as an environmental restriction and covenant or land use covenant) may be required to protect human health and the environment by reducing the risk of exposure to residual hazardous materials. Water Code Section 13307.1 requires that deed restrictions be mandated for sites that are not cleaned up to allow "unrestricted use", and that the restrictions be recorded and run with the land to restrict sensitive land uses and water uses.
"Case Closure" Determinations – We provide no further action (NFA) confirmations and no-further-active-cleanup confirmations to responsible parties when no further action is needed. We provide a case closure letter as part of the case closure summary report. Dischargers may utilize the Water Board's Assessment Tool for Closure of Low-Threat Chlorinated Solvent Sites as a guide to developing case closure requests and during the site investigation and cleanup process.
Liability Relief Tools – Several tools are available to municipalities, landowners, developers, and responsible parties for seeking relief from contamination liability. Two key tools are listed below:
California Land Reuse and Revitalization Act of 2004 (CLRRA)
The California Land Reuse and Revitalization Act of 2004 (AB 389, Montanez), effective January 1, 2005, provides liability protections to Brownfield developers, innocent landowners and contiguous property owners which are intended to promote the cleanup and redevelopment of underutilized contaminated properties. The bill establishes a process for eligible property owners to obtain the immunities, conduct a site assessment and implement a response action, if necessary, to ensure that the property is ready for reuse. Further information, including fact sheets and an application, are available at the Department of Toxic Substances Control's (DTSC's) California Land Reuse and Revitalization Act of 2004 page.
"Comfort" Letters
Water Board "comfort" letters indicate the limited circumstances in which we will require new property owners or owners of offsite properties to provide cleanup. The Water Board typically does not hold these parties responsible, as long as other viable parties are conducting cleanup, the owners provide reasonable access for investigation and cleanup, and the owners do not contribute to any pollution at the site. We encourage owners to rely on our generic "comfort" letter.


SF Regional Water Board's Prioritization Tool – In 2015, we implemented a prioritization system to screen and rank all open Site Cleanup Program cases in our region. The prioritization system weighs many factors including imminent threat to human health and the environment, ability to recover staff oversight costs, Brownfield redevelopment potential, levels of community involvement, environmental justice, and more. Water Board case managers use the system to prioritize their work and turn-around-times for their case load. More information is available here: https://www.waterboards.ca.gov/sanfranciscobay/water_issues/Priorities/SCP_case_prioritization.pdf
Screening Levels and Guidance
This section contains information about the following:
Environmental Screening Levels
SCP Case Management Tool
Vapor Intrusion Guidance
Contacts for Screening Levels and Guidance Questions
Environmental Screening Levels
The Environmental Screening Levels (ESLs) provide conservative screening levels for over 100 chemicals found at sites with contaminated soil and groundwater. They are intended to help expedite the identification and evaluation of potential environmental concerns at contaminated sites. ESLs address a range of media (soil, groundwater, soil gas, and indoor air) and a range of concerns (e.g., impacts to drinking water, vapor intrusion, and impacts to aquatic habitat).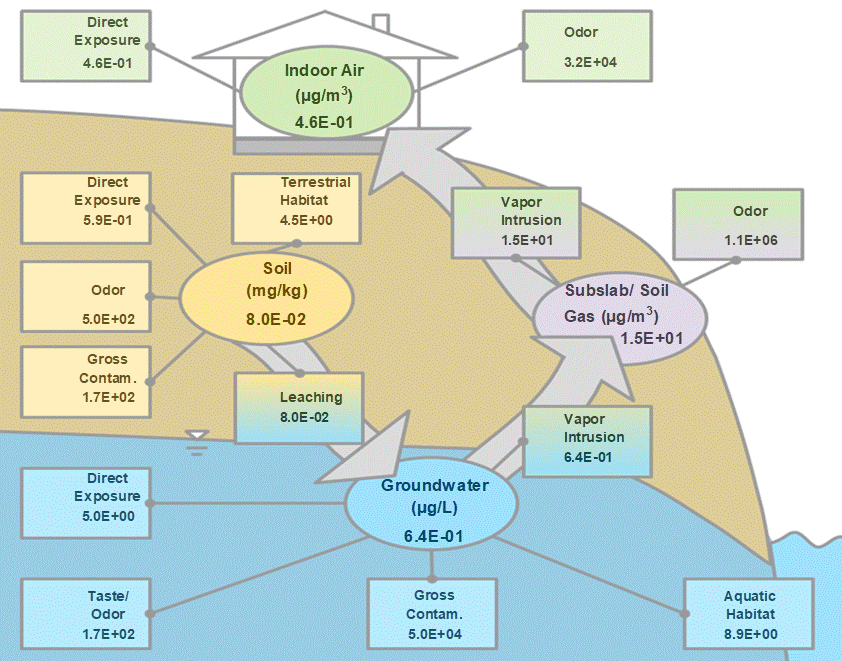 Access the Environmental Screening Level Documents
When ESLs are updated or revised, we distribute the ESL documents in an email to ESL mailing list subscribers. Check the ESL Status Sheet for the dates of the most recent ESL documents. You can join the ESL mailing list by filling out the Email Subscription San Francisco Region Form and checking the ESL box under the General category. The ESL documents can also be requested via email. Please email ESLs.ESLs@waterboards.ca.gov with "Request for ESL Documents" in the subject line to receive the most current version of the following ESL documents:
Cover Memo Identifies notable changes in the latest ESL update.
User's Guide Explains the derivation and use of ESLs.
ESL Workbook The ESL Workbook (Microsoft Excel for Office 365) consists of four parts: Summary Tables, Interactive Tool, Calculations Tables, and Input Parameters Tables. User's Guide Chapter 2 describes how to use the ESL Workbook.
ESL Summary Tables Includes a PDF version of the ESL Summary Tables for Groundwater, Soil, and Vapor (Subslab/Soil Gas and Indoor Air) and Short-Term Trichloroethene (TCE) Action Levels from the ESL Workbook.
Frequently Asked Questions Answers common questions.
PFOS and PFOA ESLs Memorandum presenting interim final ESLs for perfluorooctane sulfonate (PFOS) and perfluorooctanoate (PFOA), which will be incorporated into our ESL Workbook and User's Guide as part of the next major ESL update.
SCP Case Management Tool

The 2009 Assessment Tool for Closure of Low-Threat Chlorinated Solvent Sites (LTAT) presents nine narrative criteria that must be satisfied to demonstrate that site contamination poses a low threat. Staff and responsible parties are encouraged to use the LTAT criteria to plan and implement investigations and cleanup at any unauthorized release sites not subject to the State Board Low-Threat Underground Storage Tank Case Closure Policy. The LTAT narrative criteria can be used in conjunction with screening levels or site-specific numeric criteria appropriate given the conceptual site model.

Vapor Intrusion Framework: Evaluating & Addressing the Vapor Intrusion Pathway

The 2014 "Interim Framework for Assessment of Vapor Intrusion at TCE-Contaminated Sites in the San Francisco Bay Region" is being updated. Currently available content for our Vapor Intrusion Framework includes the following documents.
Vapor Intrusion Mitigation Guidance (2022): This document provides information about how the Regional Water Board evaluates vapor intrusion (VI) mitigation, including mitigation options, performance monitoring and effectiveness evaluation. The information updates, and replaces, the VI mitigation guidance provided in our 2014 "Interim Framework for Assessment of Vapor Intrusion at TCE-Contaminated Sites in the San Francisco Bay Region."
Contacts For Screening Levels and Guidance Questions
If you have general questions about the Environmental Screening Levels or the other guidance documents discussed above, contact the ESL team at ESLs.ESLs@waterboards.ca.gov or by phone: Nicole Fry at (510) 622-2307 and Ross Steenson at (510) 622-2445.
Funding Cleanup
Most cleanups are executed and funded by the discharger or the Regional Water Board. Financial assistance is available in some circumstances to assist with cleanup funding.
Discharger Funded
Voluntary Cleanup
The majority of SCP sites are voluntary cleanups where the responsible party (RP) voluntarily performs the investigation and cleanup by entering into the State Water Board's cost recovery program. Using the authority provided in the California WC Sections 13267, 13304 and 13365, the State Water Board set up the cost recovery program so that reasonable expenses incurred by the State Water Board and Regional Water Boards in overseeing water quality matters can be recovered from the RP. For a site to be placed in the cost recovery program, a RP must first be identified. The RP agrees to and signs an acknowledgement form stating their intent to pay oversight bills; in return, they receive oversight from Regional Water Board staff in cleaning up the site to regulatory standards. The State Water Board sets up an account for Water Board staff charges and issues quarterly, cost recovery invoices to the RPs.
Mandatory Cleanup via the issuance of a Cleanup and Abatement Order
Sometimes, a cleanup and abatement action is taken by the Regional Water Board to bind the RP to clean up the release. California Water Code Section 13304 authorizes the Water Boards to issue a "cleanup and abatement order" (CAO) requiring a discharger to cleanup and abate waste, "where the discharger has caused or permitted waste to be discharged or deposited where it is or probably will be discharged into waters of the State and creates or threatens to create a condition of pollution or nuisance." In cases where a CAO is issued, the Order provides the basis for reimbursement of Water Board oversight costs.
Financial Assistance
Site Cleanup Subaccount Program
The Site Cleanup Subaccount Program (SCAP) is a funding program established in 2014 by SB 445 (Hill, 2014). It allows the State Water Board to issue grants for projects that address the harm or threat of harm to human health, safety, and/or the environment from polluted surface water and/or groundwater. This grant can either fund the responsible party or the Regional Water Board to execute cleanup efforts.
Other Grants and Loans for Brownfield Sites
Brownfields are underutilized properties where reuse is hindered by the actual or suspected presence of pollution or contamination. Cleanup and redevelopment of these sites benefit the environment and the community by eliminating pollution and contamination problems, allowing economic growth and revitalizing neighborhoods. Refer to the State Water Board Brownfields Webpage for the various grant and loan programs that are available to help assess and cleanup Brownfield sites in California.
Water Board Funded
Requesting Oversight
The Regional Water Quality Control Boards and the Department of Toxic Substances Control (DTSC) have the authority to regulate cleanup of polluted/contaminated sites in California. In order to improve coordination between the agencies on oversight of Brownfield cleanups, a Memorandum of Agreement (MOA) was signed in March 1, 2005. The MOA describes the process and considerations used to determine the appropriate lead agency for a particular Brownfield site. Anyone requesting oversight from the Water Boards or DTSC for a Brownfield site (or other site) should submit an application to the Water Boards or DTSC with enough site information to allow the agencies to determine the appropriate lead agency.
All applications and questions about requesting oversight should be directed to our Case Intake Team (Helen Hild, Ciroos Liaghat, and Ross Steenson) at RB2-CaseIntakeTeam@waterboards.ca.gov. Alternatively, contact Helen Hild at 510-622-2419, Ciroos Liaghat at 510-622-2361, and Ross Steenson at 510-622-2445.
Contact Information
For more information about the Site Cleanup Program, contact Katie Kulha at Katie.Kulha@waterboards.ca.gov
Toxics Cleanup Division Chief
Alec Naugle, (510) 622-2510
North Bay - Laurent Meillier, (510) 622-3277
Central Bay - Katie Kulha, (510) 622-2481
South Bay - John Wolfenden, (510) 622-2444
Section 4 - Ron Goloubow, (510) 622-2442
Groundwater Protection Division Chief
Jessica Watkins, (510) 622-2349
Land Disposal and Waste Containment - Keith Roberson, (510) 622-2404
Department of Defense Section 1 - Nathan King, (510) 622-3966
Department of Defense Section 2 - Celina Hernandez, (510) 622-2447