Drinking Water State Revolving Fund Success Stories
Since its inception in 1996, the Drinking Water State Revolving Fund (DWSRF) has provided below-market rate financing, additional subsidy (principal forgiveness), and technical assistance to public water systems for infrastructure improvements that improve drinking water quality for the health, safety, and welfare of all Californians. DWSRF collects success stories from public water systems who have applied and received funding for their infrastructure and capital improvement projects.
---
Valley Center Municipal Water District
Cool Valley Reservoir Cover/Liner Replacement
Total Project Cost: $4,195,000
Funding Source(s): Drinking Water State Revolving Fund
Under the project, Valley Center Municipal Water District designed and installed a new liner to prevent leakage from the reservoir. The new liner minimizes bacteriological growth by creating a barrier between the drinking water and the concrete liner, thus minimizing the need for disinfection. The project also replaced the reservoir cover with a new reinforced floating cover that will provide effective coverage for the reservoir. Both the new liner and cover were designed and specified to have a service life of over 20 years.  The project received the Environmental Protection Agency's 2019 DWSRF AQUARIUS Recognition Program for "exceptional focus on sustainability and protection of public health".
Read more about this project at https://www.valleycenter.com/articles/vcmwd-reservoir-project-receives-national-recognition-from-epa/
Georgetown Divide Public Utility District
Auburn Lake Trails Water Treatment Plant Upgrade
Total Project Cost: $12.3M
Drinking Water State Revolving Fund: $10,000,000
Funding Source(s): US EPA Grant: $1,433,600

On October 3, 2019, Georgetown Divide Public Utilities District (GDPUD) held a ribbon cutting ceremony in the town of Cool, to mark the completion of construction of the new Auburn Lake Trails Water Treatment Plant (ALTWTP). The new ALTWTP replaced aging infrastructure that used "in-line" filtration, which is not an approved treatment process according to US EPA's Surface Water Treatment Rules (SWTRs). Construction activities included installation of a new raw water pump station, approved contact clarifier filters, adequately sized disinfection contact basin, and waste stream processing facilities. The new clarifier filtration system and disinfection contact basin enables GDPUD to comply with the 3-log Giardia and 4-log virus removal and inactivation required by the SWTRs. Funding for the $12.3-million project was provided primarily through a $10-million Drinking Water State Revolving Fund Loan.
More information can be found at the following link: https://www.gd-pud.org/auburn-lake-trails-alt-water-treatment-plant-replacement
Keyes Community Services District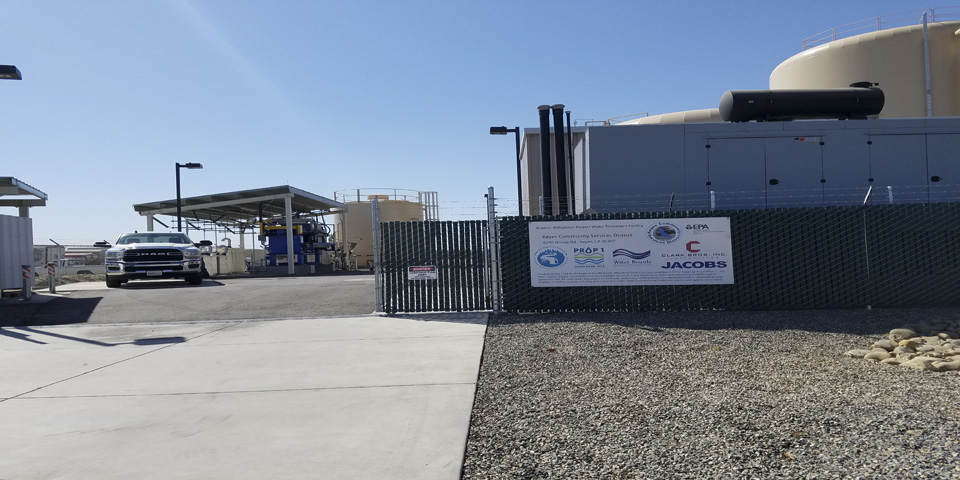 Regional Benefit Arsenic Mitigation Project
Total Project Cost: $23,442,430
Funding Source(s): Drinking Water State Revolving Fund: $10,000,000
Drinking Water State Revolving Fund: $18,442,430
Groundwater: $5,000,000

Keyes Community Services District (Keyes CSD) utilizes four active groundwater wells to provide water to approximately 4,800 residents. Each well produces water with elevated concentrations of arsenic, with three of the four wells exceeding the federal and state maximum contaminant level (MCL) of 0.01 mg/L. Additionally, five other small water systems in the vicinity (including four mobile home parks) draw water from their own groundwater wells which also exceed a primary MCL.
The project included the installation of several transmission mains to convey water produced by each of Keyes CSD's wells to a central location. A 5.4 million gallon per day centralized coagulation/filtration treatment plant was constructed to provide for the continuous removal of arsenic. Additionally, a total of approximately 2.5 miles of 10-inch to 14-inch PVC waterlines were installed to consolidate the five nearby small water systems. The multi-phase project addressed six drinking water related compliance orders and was completed in 2019.
Amador Water Agency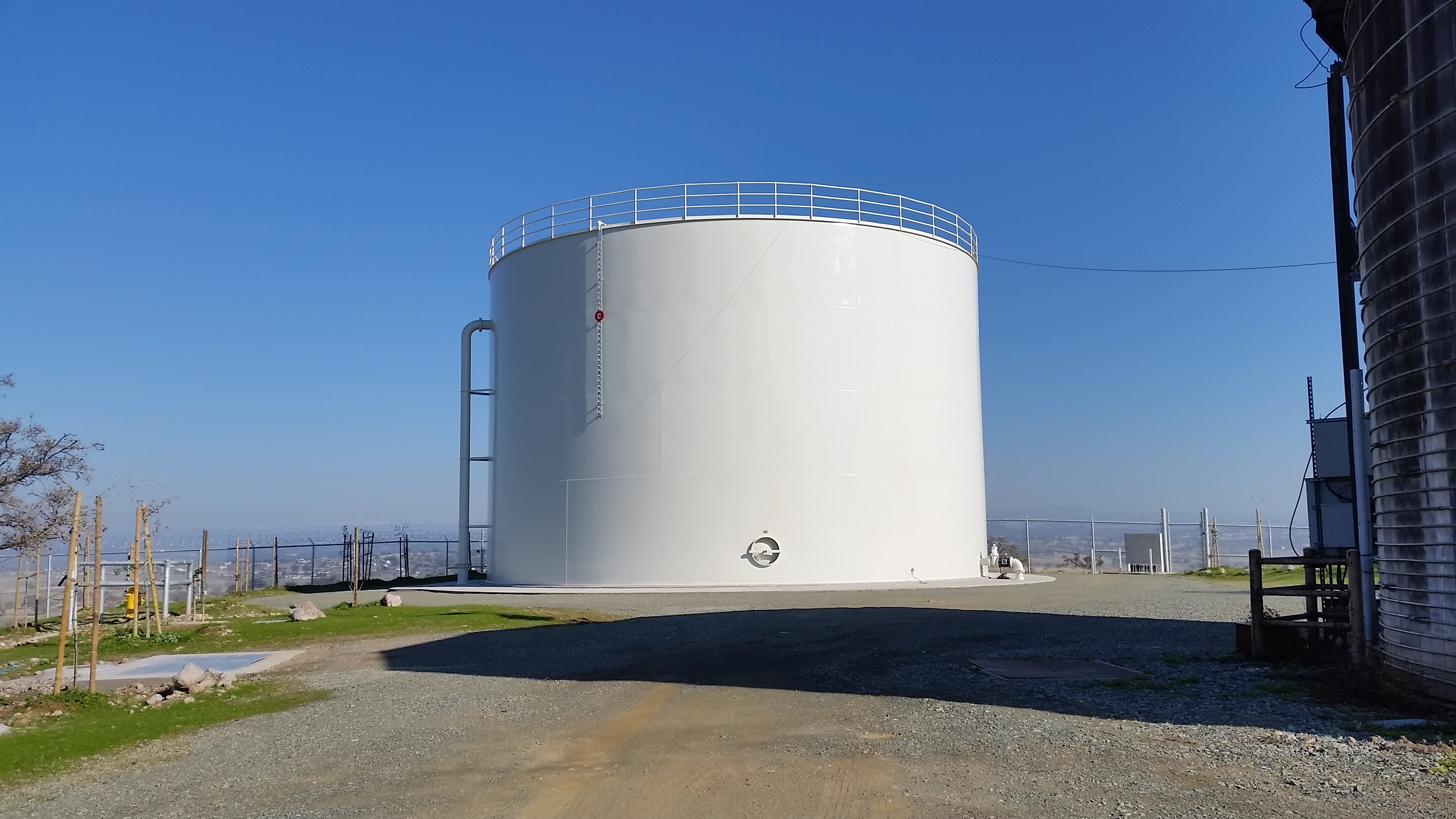 Lake Camanche Water System Compliance Project
Total Project Cost: $1,824,092
Funding Source(s): Drinking Water State Revolving Fund
The project addressed issues with Amador Water Agency's (AWA) existing redwood tank including: 1) insufficient capacity, 2) inadequate disinfection contact time, 3) the inability to meet maximum day demands, and 4) the lack of sufficient storage capacity for emergency or fire flows.
The project included construction of a new 500,000-gallon storage tank, which allows the water system to achieve the required chlorine contact time. The Agency also installed approximately 3,100 feet of 12-inch PVC waterline to connect the new tank to the existing distribution system. The existing 8-inch waterline that runs from the distribution system to the tank site now serves as the new tank's inlet, and the new 12-inch PVC waterline serves as the tank outlet. The project was completed in January 2018.
Amador Water Agency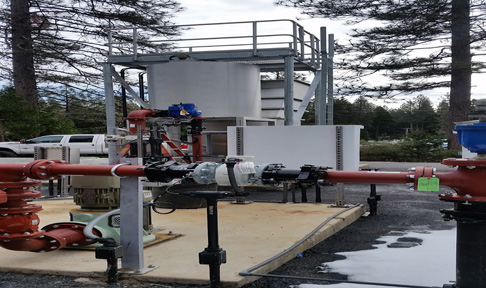 Disinfection Byproduct Compliance/Backwash Water Reuse Project
Total Project Cost: $2,761,773
Funding Source(s): Drinking Water State Revolving Fund
The project addresses noncompliance with the Stage 2 Disinfection Byproduct (DBP) Rule due to high levels of total trihalomethanes and haloacetic acids. Additionally, the existing treatment plant discharged to a nearby golf course, which contributed significantly to operations and maintenance expenses.
The project incorporated modifications to the existing treatment plant to provide for the removal of DBP precursors by adding coagulant prior to the existing membrane filtration system. The project also included the installation of a plate settler, a drying bed system, and a backwash recycle pump station to replace the existing backwash recovery skid. The upgraded system recycles 100% of its backwash, with AWA then transferring its solid waste from the drying beds to a landfill. Project construction was complete in June 2018.
Sierra County Waterwork District No. 1 (Calpine)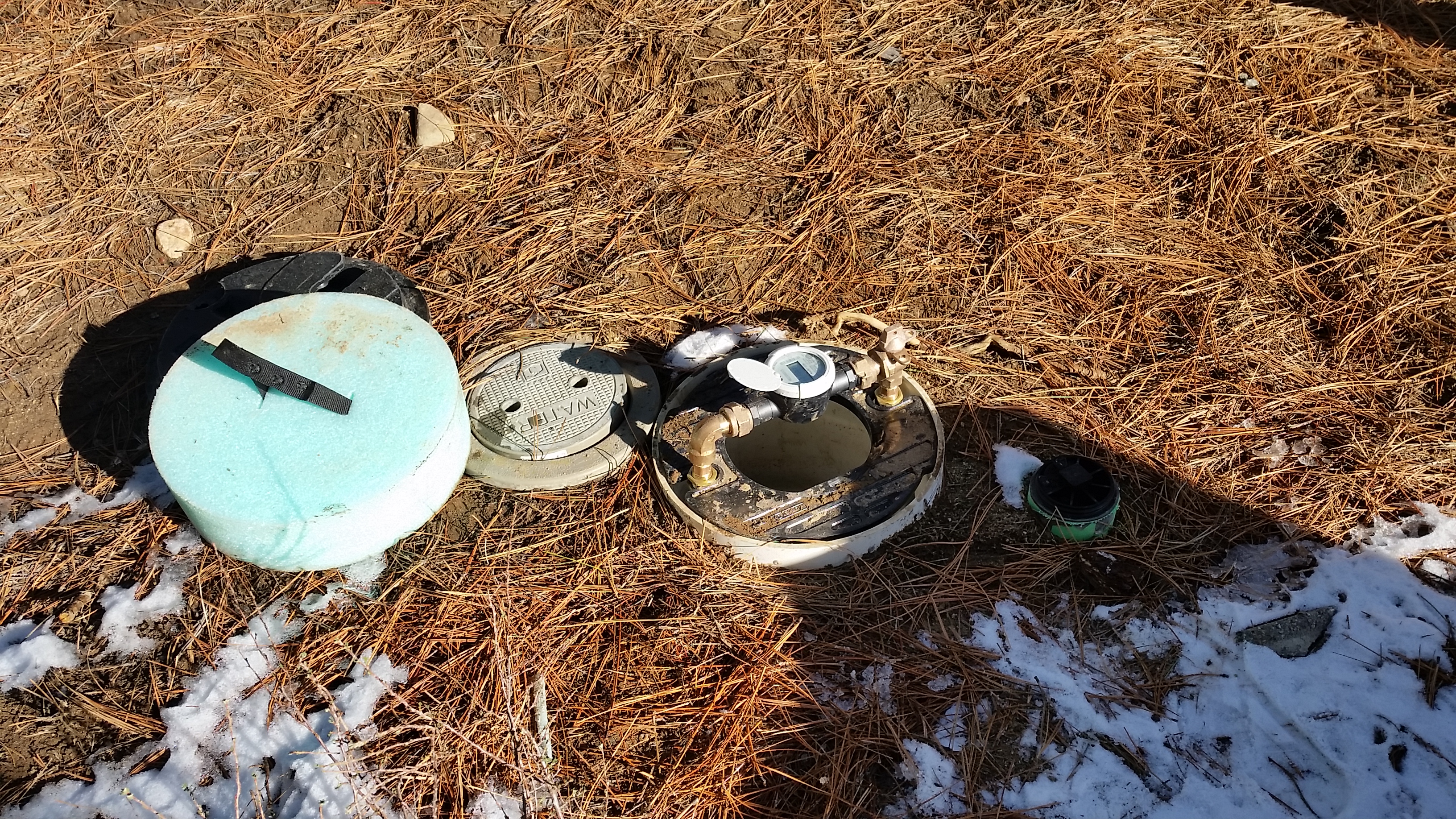 Calpine Metering Project
Total Project Cost: $425,132
Funding Source(s): Small Community Grant (SCG) Fund – Drinking Water
Calpine utilizes two wells to provide potable water to approximately 140 residences. While flow meters previously monitored water produced by each well, water usage was not measured at individual households due to the lack of water meters at most service connections.
The project included the installation or replacement of water supply meters on all service connections. Water meters will allow Calpine to bill its customers based on usage – effectively decreasing overall water demands. The water meters will also assist Calpine with identifying anomalies, such as leaky waterlines or in-house fixtures. The project was completed in February 2018.
Pleasant Valley Joint Union Elementary School District

Repair, Replace and Modernize the Pleasant Valley School Water Supply
Total Project Cost: $ 1,411,274.03
Funding Source(s): Prop 84 Emergency Funding Pump Replacement: $17,661.73
Drought Emergency Interim Supply Bottled Water: $7,980.35
CAA Bottled water: $1,059.95
Drinking Water State Revolving Fund Planning Costs: $212,860
Drinking Water State Revolving Fund Construction Costs: $1,171,712
Prior to the design of the construction project, emergency funding was used to replace and lower a burned out well pump affected by the falling ground water levels, which were exacerbated by continuous agricultural pumping of the surrounding winery properties during the drought.
During design of the project the State provided the school with bottled water for their potable water supply since the school's well exceeds the Arsenic maximum contaminate level.
Construction and planning funds were used to design and drill a deeper backup well and install Arsenic treatment to remove Arsenic from the school's domestic water supply. To reduce operations costs a new storage tank and miscellaneous other piping modifications were completed in order to separate the landscape irrigation system from the domestic system.
The project will provide a consistent and safe source of drinking water for many years to come.