Climate Change Readiness
Quick Links
Home | Guiding Principles | Resources
Introduction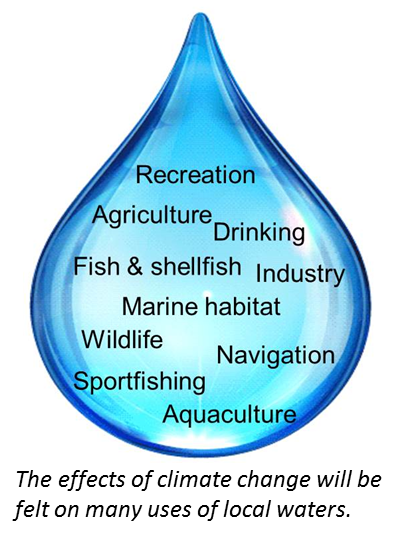 Climate change is happening. The direct and indirect effects of climate change have broad-reaching implications for the San Diego Water Board's mission to protect and restore uses of water. The State of California regularly compiles a variety of information on science, news, and actions at the Climate Change Portal. The State and Regional Water Boards have a key role in the State's implementation plan known as Safeguarding California.
Effects of climate change.
For instance, sea level rise, ocean acidification, and changes to precipitation patterns, groundwater levels, and temperature will influence how we ensure that water is safe for drinking, swimming, fish and shellfish consumption, and ecosystems. The California Climate Change Center produced a climate change impact report (2009) summarizing some of the threats to the San Diego Region. And, the Climate Science Alliance has produced a report on effects of climate change to the region's ecosystem (2018).
Effects of management actions.
In addition, local governments, non-governmental organizations, and industries need to make a variety of difficult decisions regarding potential climate change impacts to their interests; and those decisions could affect our mission in the coming years. For examples see Sea Level Rise Adaptation Strategy for San Diego Bay (2012). For instance:
Accommodating higher tidal surges by armoring coastlines could restrict recreational uses of beaches and bays.
Managing larger volumes of storm water by modifying stream channels could disrupt ecosystem uses of streams and wetlands.
Relying on natural attenuation of soil contamination could be risky if the area may become inundated due to sea level rise or rising groundwater.
San Diego Water Board Resolution on Climate Change
Resolution No. R9-2018-0051 "Addressing Threats to Beneficial Uses from Climate Change" adopted June 20, 2018
The Board's 2018 Climate Change Resolution identifies the following climate change priority goals based on "Key Beneficial Uses and Key Areas: Focusing on What is Most Important" San Diego Water Board Resolution R9-2017-0030:
Key Beneficial Use

Key Areas for the Use*

Climate Change Goals

Safe to Drink

1st rank: Drinking Water and supply reservoir

2nd rank: Groundwater Basin

• Increase local water supply via effective water conservation and enhanced water recycling

• Capture storm water without harming downstream ecosystems

Safe to Eat

1st rank: Ocean

2nd rank: Bays

3rd rank: Harbors, lagoons, estuaries

• Address bioaccumulation and toxin threats

• Protect and increase refuges for intertidal ecosystems

Safe to Swim

1st rank: Ocean and Bays

2nd rank: Harbors

3rd rank: Lagoons, estuaries, streams, stream mouths

• Ensure low-gradient beaches remain accessible for recreational uses

• Identify and remedy vulnerable public infrastructure

Healthy Ecosystem

1st rank: Ocean, San Diego Bay, lagoons, estuaries, stream systems

2nd rank: Mission Bay, stream mouths

3rd rank: Harbors, ponds

• Protect and increase intertidal ecosystems

• Protect and restore natural flow regimes
SUBSCRIBE TO EMAIL LIST To stay informed of San Diego Water Board activities regarding climate change, subscribe to our climate change email list at https://www.waterboards.ca.gov/resources/email_subscriptions/reg9_subscribe.html.
CONTACTS For additional information contact Jeremy Haas, Environmental Program Manager, at Jeremy.Haas@waterboards.ca.gov or 619-521-3009.