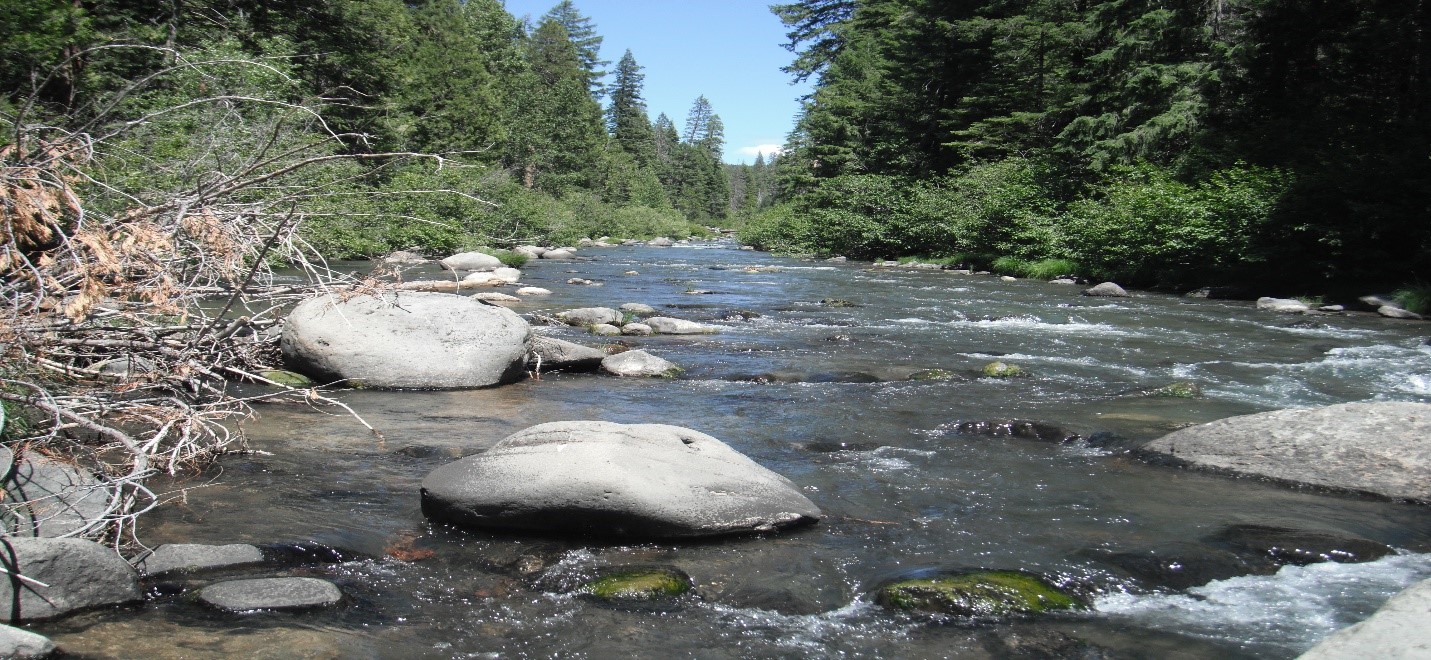 Quick Links to Cannabis Policy Regions
Existing Flow Requirements
Many rivers in California have existing instream flow requirements through licenses issued by the Federal Energy Regulatory Commission for hydropower projects, Biological Opinions issued by the National Marine Fisheries Service or the United States Fish and Wildlife Service, or water right orders and decisions issued by the State Water Resources Control Board (State Water Board). This webpage provides a comprehensive list of existing instream flow requirements in California, as reflected to the best knowledge of State Water Board staff.  While this webpage was developed to assist cannabis cultivators with compliance with the Cannabis Policy, it has utility beyond cannabis cultivation. Cannabis cultivators should refer to the Cannabis Cultivators section below.
The estimated geographic extent of each requirement is represented by a polygon layer in the interactive GIS mapping tool below. Clicking on a polygon will provide an overview of the flow requirement for the applicable stream reach. More information on the existing instream flow requirements is located below the mapping tool and is organized by Cannabis Policy region and stream reach. The associated compliance gages are also included, as applicable.
While the goal of this website is to compile a comprehensive list of existing instream flow requirements in California, the list may be incomplete and the estimated geographic extent of the flow requirements may have been misinterpreted. If you have comments, corrections, or additional information, you are encouraged to contact State Water Board staff by email at CannabisWR@waterboards.ca.gov.
Cannabis Cultivators:
Per the Cannabis Policy, cannabis cultivators shall comply with either: (a) existing instream flow requirements (e.g., Biological Opinion or Federal Energy Regulatory Commission license flow requirements); or (b) the Cannabis Policy Tessmann instream flow requirements, whichever is greater. Cannabis cultivators should refer to the Online Cannabis Policy Compliance Gage Mapping Tool (online mapping tool) to determine whether an existing flow requirement may apply to their point of diversion.
Cannabis Policy Regions:
Klamath
Klamath River
Trinity River
---
Upper Sacramento
McCloud River
Pit River
---
North Eastern Desert
No Existing Flow Requirements
---
North Coast
Eel River
Kekawaka Creek
Mattole River
Middle Sacramento
---
Battle Creek
Butte Creek
Middle Fork Cottonwood Creek
Sacramento River
---
Southern Sacramento
American River
Middle Fork American River
South Fork American River
Bear River
North Fork Cache Creek
Middle Fork Consumnes River
Feather River
North Fork Feather River
South Fork Feather River
Mokelumne River
Putah Creek
Sacramento-San Joaquin Bay Delta Legal Boundary and Major Tributaries
Silver Creek
Yuba River
North Yuba River
Middle Yuba River
South Yuba River
---
North Central Coast
Lagunitas Creek
Mill Creek
Russian River
East Fork Russian River
---
Tahoe
Martis Creek
Rubicon River
Upper Truckee River
Little Truckee River
---
South Central Coast
San Gregorio Creek
---
San Joaquin
Merced River
Old River
Rush Creek
San Joaquin River
South Fork San Joaquin River
Stanislaus River
North Fork Stanislaus River
Middle Fork Stanislaus River
South Fork Stanislaus River
Tuolumne River
Willow Creek
---
Mono
Bishop Creek
Lee Vining Creek
Mammoth Creek
Mill Creek
Pine Creek
---
Kern
Kaweah River
Kern River
Kings River
North Fork Kings River
Tule River
Middle Fork Tule River
---
South Coast
Piru Creek
Santa Ana River
Ventura River
---
South Eastern Desert
No Existing Flow Requirements