Climate Change
Welcome to the Climate Change Site
The State Water Resources Control Board and the Regional Water Quality Control Boards (Water Boards) strive to protect the many beneficial uses of California waters and ensure a sustainable water supply for all Californians. Current and future climate change effects—such as more frequent wildfires, floods, and droughts—threaten California's water supply and exacerbate challenges like groundwater management and access to safe and affordable drinking water. The Water Boards promote water measures that reduce the emission of greenhouse gases and help Californians adapt to the impacts of climate change primarily through permits, regulations, and financing. This webpage provides a broad context for Water Boards actions related to climate change.
Adaptation refers to actions taken to build resilience and to adjust to the impacts of climate change.
Resilience is the capacity to prepare for, recover from, and grow from disruptions.
Mitigation, in the context of climate change, refers to actions taken to reduce the concentration of greenhouse gases in the atmosphere.
Vulnerable communities experience heightened risk and increased sensitivity to climate change and have less capacity and fewer resources to cope with, adapt to, or recover from climate impacts.
Climate and Racial Equity Forum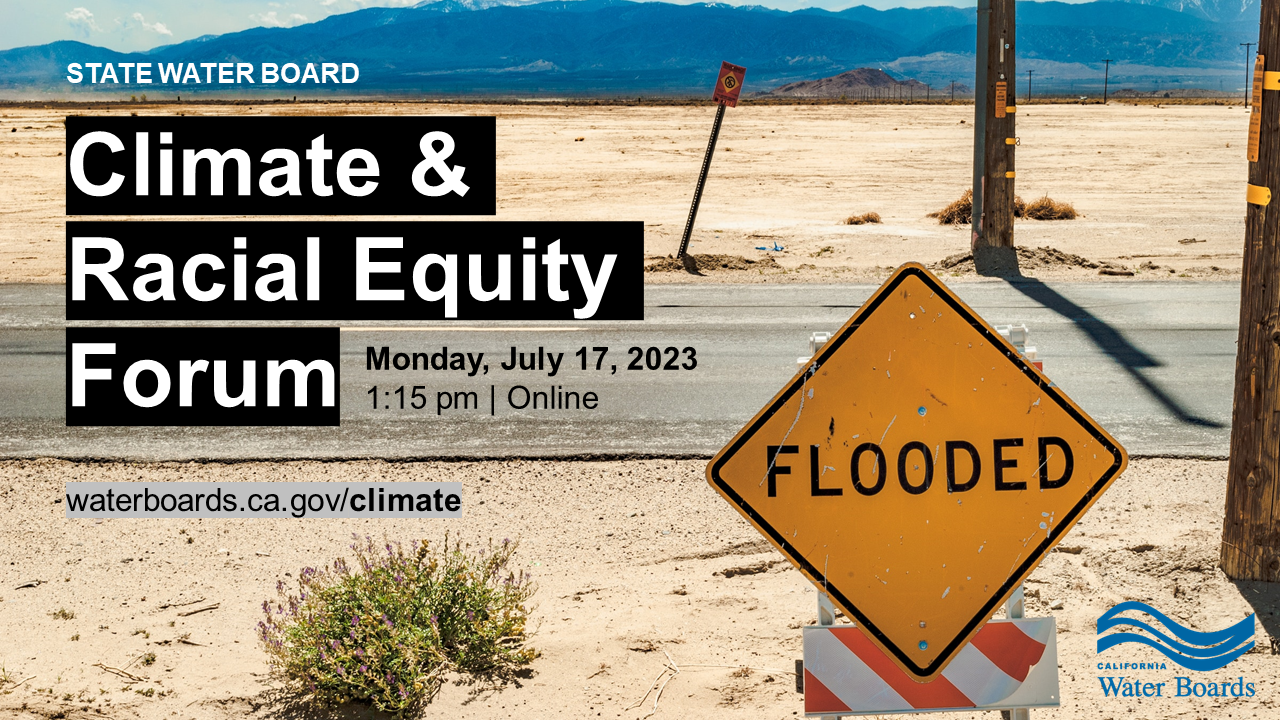 Climate and Racial Equity Forum Videos and Slides are Now Available
The State Water Board hosted the Climate and Racial Equity Forum online on July 17, 2023. The video recordings and slides in English and Spanish are now available:
Our Climate Team is taking into consideration all the forum feedback. We aim to share more information and updates. Please look for updates on this website and subscribe to the Climate Change Email List below.
This forum served as an opportunity for staff to get input on how the Water Boards could best prioritize consideration of climate actions. Researchers, advocates, and community organizations shared about tools, experiences, and recommendations that the Water Boards can learn from to address disproportionate climate impacts. Members of the public were invited to listen in with time for input and questions. This was the first public event to inform the early development of the Climate and Racial Equity Strategy (CARES), a State Water Board Racial Equity Action Plan commitment.
If your organization would like to be considered for future State Water Board climate-related events or for any other questions about the forum, please contact the Climate Team at climate@waterboards.ca.gov and include "Climate Forum" in the subject.
SPEAKERS
Opening Remarks: Shereen D'Souza (CalEPA Deputy Secretary for Climate)
Climate & Racial Equity Overview: Chris Hyun (State Water Board)
Research Panel

Moderator: Chris Hyun (State Water Board)
Khalid Osman (Stanford University)
Sam Sandoval Solis (UC Davis)
Lara Cushing (UC Los Angeles) & Seigi Karasaki (UC Berkeley)
Amanda Fencl (Union of Concerned Scientists)

Advocacy Panel

Moderator: Michael Méndez (Los Angeles Regional Water Board)
Shasta Gaughen (Pala Environmental Department) & Sherri Norris (California Indian Environmental Alliance)
Charming Evelyn (Sierra Club California)
Justine Massey & Kjia Rivers (Community Water Center)
Rosa Nelson (Nuestra Casa)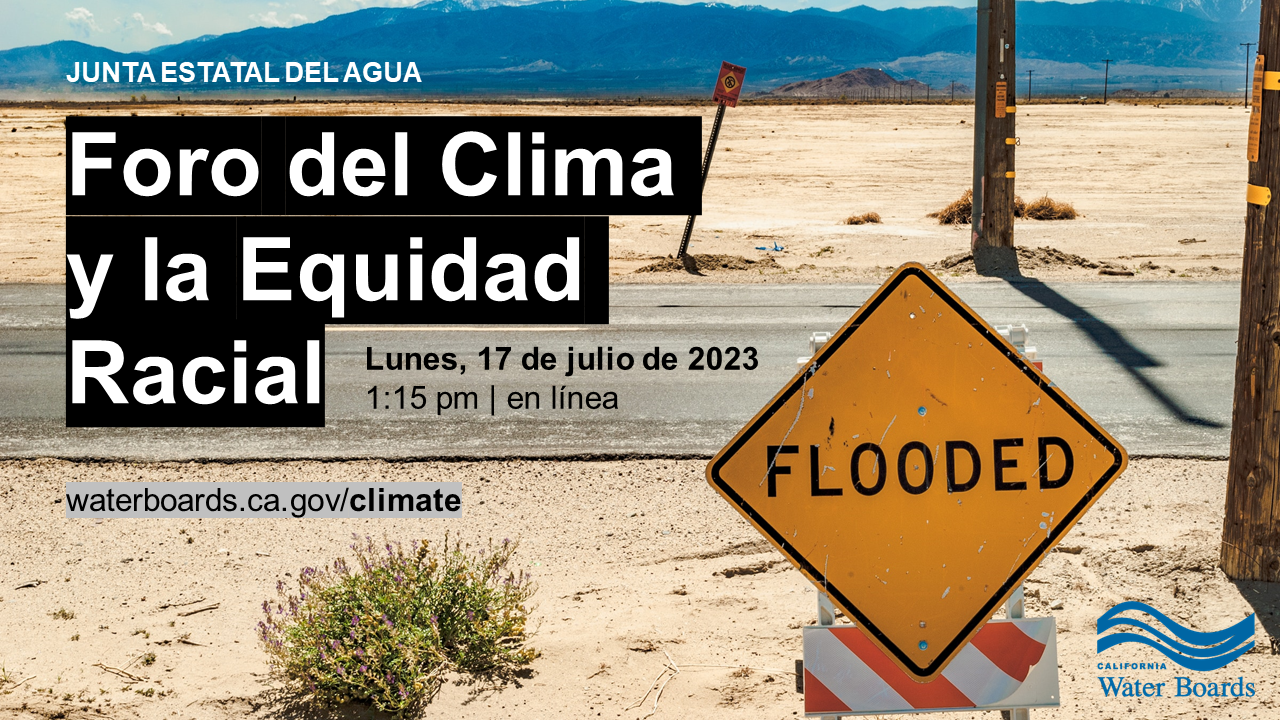 Ya están listos los Videos y las Diapositivas del Foro de Clima y Equidad
La Junta Estatal del Agua (SWRCB) dio un Foro de Clima y Equidad Racial en línea el 17 de julio de 2023. Ya están listas las grabaciones y diapositivas en inglés y español:
El Equipo del Clima considerará todo el aporte del foro. Deseamos compartir más información y actualizaciones. Vea este sitio para actualizaciones e inscríbase en la abajo en la Lista de Cambio Climático por E-mail.
En este foro el personal recibió aporte sobre como las Juntas del Agua podrían priorizar mejor la consideración de medidas para el clima. Investigadores, defensores, y organizaciones comunitarias compartieron medios, experiencias, y recomendaciones de las que las Juntas del Agua pueden aprender para abordar los impactos climáticos dispares. Se invitó al público a escuchar y hubo tiempo para aporte y preguntas. Este fue el primer evento público para informar el desarrollo temprano de CARES (Estrategia de Equidad Climática y Racial). CARES es un compromiso del Plan de Acción de Equidad Racial de la SWRCB.
Para preguntas sobre este foro, o para considerar a su organización como panelista en este/futuros eventos de la SWRCB relacionados al clima, contacte al Equipo del Clima en: climate@waterboards.ca.gov (en el tema del e-mail escriba: "Climate Forum").
PONENTES
Palabras de Apertura: Shereen D'Souza (Secretaria Adjunta para Clima en CalEPA)
Resumen sobre el Clima y la Equidad Racial: Chris Hyun (Junta Estatal del Agua – SWRCB)
Panel de Investigación

Moderador Chris Hyun (Junta Estatal del Agua – SWRCB)
Khalid Osman (Universidad de Stanford)
Sam Sandoval Solis (UC Davis)
Lara Cushing (UC Los Angeles) y Seigi Karasaki (UC Berkeley)
Amanda Fencl (Unión de Científicos Interesados)

Panel de Defensores

Moderador: Michael Méndez (Junta Regional del Agua de Los Angeles)
Shasta Gaughen (Depto. Ambiental de Pala) y Sherri Norris (Alianza Ambiental Indígena de California)
Charming Evelyn (Sierra Club California)
Justine Massey & Kjia Rivers (Centro Comunitario por el Agua)
Rosa Nelson (Nuestra Casa)
Stay informed
Email Subscription List
Subscribe directly to the Climate Change Email List to receive notifications and the latest updates.
Check your email account for a confirmation email to complete your subscription.
Subscribe to our other email lists. See the " General Interest" section.
State Water Board Climate Change Resolutions
Water Boards Actions
Below are Water Boards actions with corresponding programs that support climate change adaptation, water resilience, and greenhouse gas mitigation. Many adaptation actions that increase the resilience of water systems and ecosystems, such as saving water, also help reduce greenhouse gas emissions.
Saving water and monitoring water use
Water conservation and efficiency save water and can also save energy. See the Water Conservation Portal for water-saving actions and monitoring.
Capturing and monitoring storm water
Capturing storm water can provide flood protection, augment water supply, and have water quality and other benefits. See the Storm Water Program.
Planning for water availability
Proposed water supply projects should consider climate change impacts on water availability. See the Water Rights and Climate Change website and the staff report for recommendations on how applicants can ensure that their water right is minimally impacted by climate change.
Supporting groundwater sustainability
Groundwater management can buffer against drought and climate change. See the Sustainable Groundwater Management Act website.
Tracking climate impact concerns
Drinking water suppliers share their climate change concerns through the Electronic Annual Report survey. See the 2018 survey data that reflect suppliers' perceived climate threats.
State Interagency Climate Change Resources
Adaptation
The Water Boards have partnered with a variety of state agencies to increase water system resilience and support vulnerable communities. Below are state interagency adaptation and resilience plans, guidance documents, and tools.
State adaptation plans
Guidance documents
Adaptation tools and research
Mitigation
The main source of greenhouse gas emissions from water comes from the energy used to pump, convey, treat, and heat water. Greenhouse gas emissions can be reduced through replacing fossil fuel sources with renewable energy, improving water and energy efficiency, and reducing water consumption and water loss. Below are state interagency mitigation plans, policies, and programs.
Mitigation plans
Mitigation policies
CalEPA climate-related programs