National Pollutant Discharge Elimination System (NPDES)
---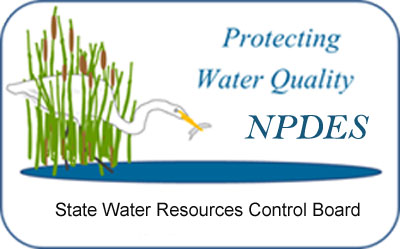 Discharges from NATURAL GAS UTILITY CONSTRUCTION OPERATIONS AND MAINTENANCE ACTIVITIES
Section 402 of the Clean Water Act requires that a discharge of any pollutant or combination of pollutants from a point source to surface waters that are deemed waters of the United States be regulated by an NPDES permit. To provide coverage to discharges by natural gas facilities to waters of the United States, The State Water Board has adopted the Statewide General NPDES Order for Discharges from Natural Gas Utility Construction, Operations and Maintenance Activities. This General Order covers discharges from natural gas utility construction and maintenance activities throughout the state including hydrostatic pressure testing of pipelines and site dewatering.
QUICKLINKS: Current Permit | Fees | Contacts
CURRENT PERMIT
On December 5, 2017, the State Water Board adopted the Statewide General Order and the Mitigated Negative Declaration to regulate discharges from natural gas utility construction, operations and maintenance activities, water quality order 2017-0029-DWQ.
Fees
Fee Schedule
Contacts
Walter Mobley
(916) 323-0878
Walter.Mobley@waterboards.ca.gov
Receive updates by subscribing to our email list: Gas Utilities Statewide General NPDES Permit (located in the Water Quality section).