Ocean Plan Requirements for Seawater Desalination Facilities
Quick Links for Seawater Desalination
Seawater Desalination Overview
Why are there requirements for seawater desalination facilities in the Ocean Plan?
Although seawater desalination can be a water supply option for some coastal communities, the construction and operation of these facilities can result in marine life mortality and harm to aquatic life beneficial uses. During the process of ocean desalination, organisms may be drawn in with the source water and enter the facility's water processing system. Salt and minerals are removed from salt water to produce fresh water and organisms do not survive the desalination process. The salt, minerals, and other compounds produced as a byproduct of desalination are discharged into the ocean as hypersaline brine. Brine is denser than the receiving ocean water and, depending on discharge methods, may settle on the seafloor and have adverse effect on marine organisms. The Ocean Plan includes requirements to ensure the construction and operation of seawater desalination facilities minimize intake and mortality of all forms of marine life.
2015 Ocean Plan Desalination Amendment
On May 6, 2015, the State Water Board adopted an amendment to the Water Quality Control Plan for the Ocean Waters of California (Ocean Plan) to address effects associated with the construction and operation of seawater desalination facilities (Desalination Amendment). The Amendment supports the use of ocean water as a reliable supplement to traditional water supplies while protecting marine life and water quality. The Desalination Amendment, for the first time, provides a uniform, consistent process for permitting of seawater desalination facilities statewide. In doing so, it provides direction for regional water boards when permitting new or expanded facilities and provides specific implementation and monitoring and reporting requirements. The Office of Administrative Law approved the Desalination Amendment on January 28, 2016. The United States Environmental Protection Agency approved the portions of the Desalination Amendment that implement the federal Clean Water Act on April 7, 2016. Therefore, the Desalination Amendment is now fully in effect.
The Desalination Amendment requires new or expanded seawater desalination plants to use the best available, site, design, technology, and mitigation measures feasible to minimize intake and mortality of all forms of marine life. Based on the best available science, the amendment identifies preferred technologies; however, alternative intake and disposal methods can be used if demonstrated to be as protective of marine life as the preferred technologies. Additionally, mitigation measures are required in order to address harmful impacts on marine life that occur after a desalination facility uses the best available site, design, and technology feasible. Feasibility considerations regarding site, design, technology, and mitigation measures take into account economic, environmental, social, and technological factors and whether something is capable of being accomplished in a successful manner within a reasonable period of time.
Seawater Desalination Requirements in the Ocean Plan
Supporting Scientific Reports and Expert Panel Reports
Seawater Desalination Facilities
Existing Desalination Facilities
Currently, there are 12 existing desalination facilities throughout California. The existing desalination facilities were issued an NPDES permit, building permits and other governmental approvals necessary, and commenced construction of the facility beyond site grading prior to January 28, 2016.
Moss Landing Power Plant
Marina Coast Water District Desalination Plant
Sand City Desalination Plant
Monterey Bay Aquarium
Morro Bay Desalination Plant
Morro Bay Power Plant
Diablo Canyon Nuclear Power Plant
Gaviota Oil Heating Facility
Charles E. Meyer Desalination Facility
Pebbly Beach Desalination Plant
San Nicolas Island Desalination Plant
Carlsbad Desalination Plant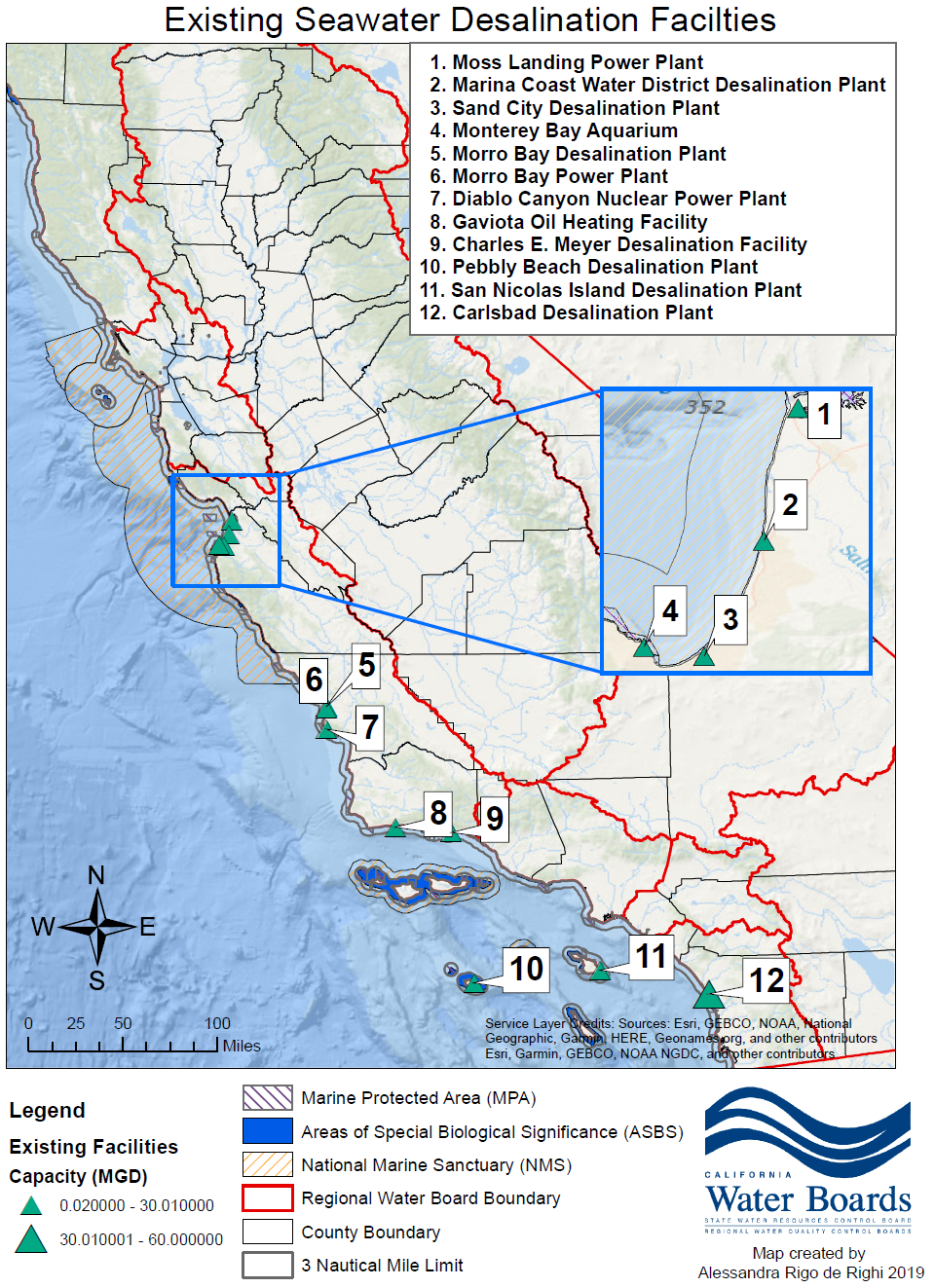 Proposed Seawater Desalination Projects
The following list includes proposed seawater desalination projects that are ongoing or currently being considered by regional water board staff in consultation with State Water Board staff.
Links to project-specific regional water board webpages are provided where available.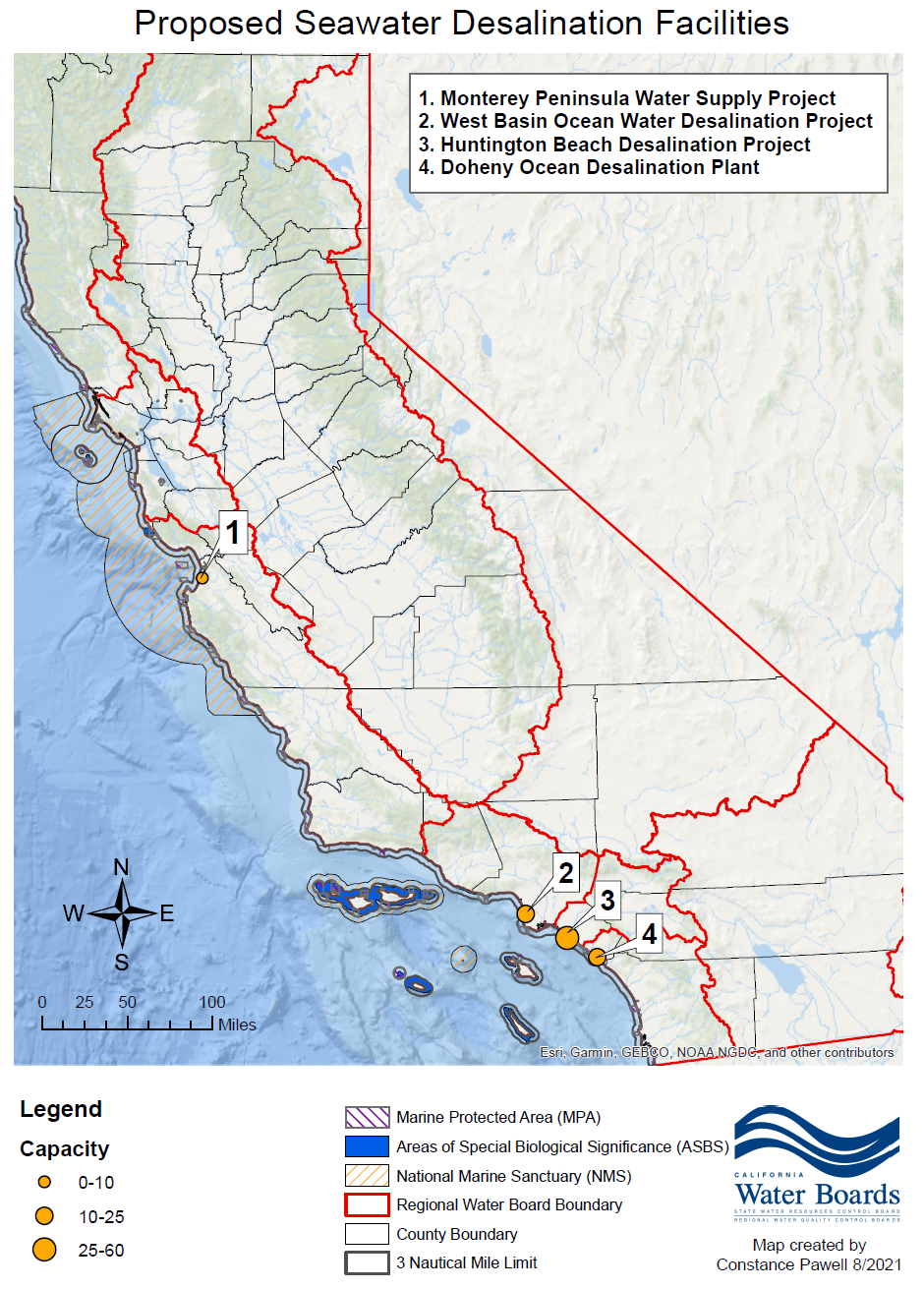 Regional Water Board Contacts
Seawater Desalination Interagency Memorandum of Agreement
The Seawater Desalination MOA memorializes the relationship between agencies to coordinate timely and effective review of environmental documents and permits or lease applications for proposed seawater desalination facilities, and demonstrates the Water Boards' ongoing commitment to interagency coordination. The signatories of the MOA include:
State Water Resources Control Board
California Coastal Commission
California State Lands Commission
California Department of Fish and Wildlife
North Coast Regional Water Quality Control Board
San Francisco Bay Regional Water Quality Control Board
Central Coast Regional Water Quality Control Board
Los Angeles Regional Water Quality Control Board
Santa Ana Regional Water Quality Control Board
San Diego Regional Water Quality Control Board
Monterey Bay National Marine Sanctuary
National Marine Fisheries Service's West Coast Region