2020-2022 California Integrated Report
For the 2020-2022 California Integrated Report, data from waterbodies in the Central Coast, Central Valley, and San Diego Regional Water Quality Control Boards regions were assessed as "on-cycle assessments." In addition, data from waterbodies in the Colorado River Basin Regional Water Quality Control Board region conducted "off-cycle" assessments for one or more waterbodies within their region. The 2020-2022 Integrated Report was approved by U.S. EPA on May 11, 2022, and is the current Integrated Report.
2020-2022 Integrated Report Map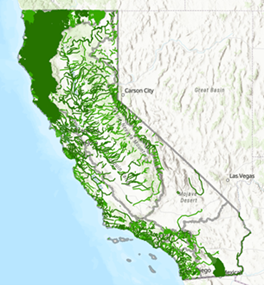 About the Map
This map displays the assessed waterbodies included in the California 2020-2022 Integrated Report. Assessed waterbodies are surface waterbodies, such as rivers, lakes, and beaches, that are placed in one of five Integrated Report Condition Categories based on a waterbody's ability to support beneficial use(s). The California 303(d) list portion of the California Integrated Report consists of waterbodies in Categories 4a, 4b, and 5. These waterbodies can be referred to as "listed" or "impaired". The waterbody assessments are included in the map as a pop-up or in the attribute table.
Note, the waterbodies and data in the map are for informational purposes only and can be updated periodically. Please direct questions on the map layers to the Surface Water Quality Assessment program at this address: WQAssessment@waterboards.ca.gov
Reports and Downloads
303(d) List: Download a list of impaired waterbody pollutant combinations
Waterbody Fact Sheets: View and download waterbody fact sheets for each assessed waterbody
Category Reports