Senate Bill No. 19 – Stream Gaging Plan
The CALIFORNIA STREAM GAGING PRIORITIZATION PLAN 2022 Draft Technical Report is now available.
Data generated from the Stream Gaging Prioritization Plan includes tabulated data and spatial Geographic Information Systems (GIS) data.  Please refer to the SB 19 draft report and the data dictionaries included with the datasets to interpret the data columns.  The spatial GIS data can be viewed under the Gage Analysis Tool tab and the Digital Data files containing additional details on all watersheds are available below.
The SB 19 Technical Team hosted a public meeting on May 19th, 2022 to provide background on Senate Bill No. 19, an overview of the California Stream Gaging Prioritization Plan 2022 Draft Technical Report, next steps, and ways to provide comments. If you missed the SB 19 Stream Gaging Plan public outreach meeting the recording is now available. Access Passcode: c@1#yD1J
It is the state's responsibility to manage and protect California's water while also protecting, restoring, and enhancing the natural and human environment. A robust stream gage network is essential for effective water management, especially during times of extreme water shortage or flooding. Almost three-quarters of California watersheds do not have a federally or state-operated streamflow gage and the majority (~85 percent) of these ungaged watersheds have surface water diversions. The existing gage network is insufficient to address key management needs (e.g., water supply management, flood management, water quality management, and ecosystem management).
As California learned in the recent drought, the decommissioning of gages and lack of gages in priority watersheds cause significant data gaps that hamper effective management of water resources. State agencies are forced to spend extra resources on field investigations and other less accurate means to obtain the needed data, or to forgo timely and effective action because data are not available. Lack of streamflow information impacts the state's ability to make the most efficient and effective water management decisions, especially during critically dry periods when limited water supplies must be managed to meet multiple needs such as the protection of senior water rights, water transfers, and protection of threatened and endangered aquatic species.
The state recognizes the importance of stream gaging information. A robust and reliable stream gage network can help state, federal, and local agencies manage water resources and conserve freshwater species more effectively for multiple benefits and help to avoid conflicts.
Senate Bill No. 19 (SB 19) (Statutes of 2019, Chapter 361, Dodd) enacts Water Code section 144, which directs the Department of Water Resources (DWR) and the State Water Resources Control Board (State Water Board) to develop a plan to address gaging information gaps through the deployment of a network of prioritized stream gages in consultation with the California Department of Fish and Wildlife (CDFW), Department of Conservation (DOC), the Central Valley Flood Protection Board (Flood Board), and interested stakeholders. The stream gaging plan will identify significant gaps in the stream gaging network to meet the wide variety of water management needs, which are increasingly important in the face of a changing climate. It is anticipated it will take two years to develop the plan.
The integrated nature of this planning process, with DWR and the State Water Board working in consultation with CDFW, DOC, Flood Board, and interested stakeholders, will strengthen our existing partnerships with other agencies and develop partnerships and relationships among state and local entities and other stakeholders who operate or rely on stream gaging data to manage water in their local watersheds. By working together, a more efficient stream gage network can be designed to meet the State's key water management needs.
The Governor's Water Resilience Portfolio recognizes the importance of improving the state's stream gage network. Action 22.6 of the portfolio states: Build upon implementation of SB 19, which requires an assessment of the state's stream gage network. Convene state, local, and federal agencies and assess and prioritize the monitoring instrumentation needed (flow meters, remote sensing, weather stations, data logging, wireless transmission, etc.) to support regional resilience.
Per SB 19, the stream gaging plan will include a determination of funding needs and opportunities for modernizing and reactivating existing gages and deploying new gages in priority locations across hydrologic regions in the state. The State Water Board and DWR will develop ranking criteria that will help prioritize gage locations by taking into account the ability to modernize or reactivate stream gages where lack of data contributes to conflicts in water management or where water can be more effectively managed for multiple benefits including water supply, flood, water quality, and ecosystem management. Other criteria to be considered in prioritization and developing the plan include:
Opportunities for local agencies to enter cost-share arrangements
Ease of integrating the stream gage into the existing network
Availability of historic gage data
Availability of temperature data
Water quality and flow impacts related to cannabis cultivation
Integration with the Open and Transparent Water Data Act (Part 4.9 (commencing with Section 12400) of Division 6)
Ability to provide data to assist with groundwater management
Development of the plan will include tasks related to researching the existing stream gaging network (locations, costs, funding mechanisms, operational conditions), identifying gaps in stream gaging network, consultation with agencies, outreach with other stakeholders, identifying funding needs for future stream gaging, identification of partnership mechanisms and opportunities for partnering, and development of a draft and final plan.
It should be noted that the plan will identify priority stream gage locations and funding needs to improve the existing stream gage network, but additional funding to install and operate stream gages was not included in the State's Budget to implement SB 19.
To stay up to date on the process of SB 19, please click on the email subscription box or contact one of the SB 19 team members.
| Technical Advisory Committee Participant | Representative |
| --- | --- |
| Association of California Water Agencies | Marc VanCamp |
| California State Association of Counties | Catherine Freeman |
| California Water Data Consortium | Tara Moran |
| Central Valley Flood Protection Board | Doug Kennedy |
| Internet of Water | Peter Colohan |
| National Oceanic and Atmospheric Administration - California Nevada River Forecast Center | Alan Haynes |
| Northern California Water Association | David Guy |
| The Nature Conservancy | Kirk Klausmeyer |
| Trout Unlimited | Mia Van Docto |
| United States Geological Survey - Water Science Center | Mark Dickman |
California Gage Analysis Priority Watersheds Tool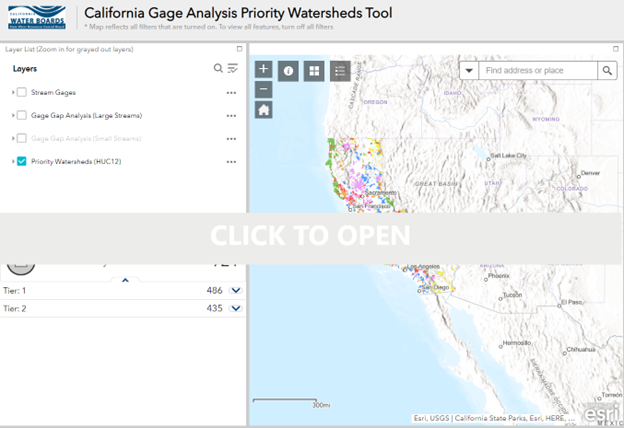 To support exploring the data and recommendations in the California Stream Gaging Prioritization Plan (Plan) the State Water Board, Department of Water Resources, and consulting agencies created a Gage Analysis Tool. The tool allows interested parties to explore the Plan's recommendations to improve and expand the State's gaging system, watersheds identified with high-priority water management needs, and long-term stream gages whose data is publicly available in an interactive map-based format. The Tool currently incorporates gages found on the U.S. Geological Survey's National Water Information System (NWIS) and the Department of Water Resources' California Data Exchange Center (CDEC). Those with an interest in the Stream Gaging Plan process, or just an interest in the state's current gaging network, are encouraged to click on the map to explore the data.
Once the map loads, visitors may find it useful to start by clicking on the "Helpful Info" button near the top of the map pane. Also, be sure to check back in the future, as the current tool may be updated with additional information and data visualization tools.
Subscribe to our Stream Gaging Plan email list to receive notifications and the latest updates. After subscribing, you will need to check your email host for a confirmation email to complete the subscription.