Cannabis Regulatory Program
Announcements
Winter is coming! All cannabis sites are required to implement winterization measures prior to the beginning of the winter period. The Central Coast Water Board cannabis program hosted  a winterization workshop on October 21, 2022 in coordination with the Upper Salinas-Las Tablas Resource Conservation District. The workshop addressed best practices for protecting cannabis sites from erosion and sediment discharge caused by storms. You can find a recording of the workshop and copies of the presentations in the Resources section below.
Do you need to terminate your enrollment under the Cannabis General Order? Guidelines for how to do this are now available in the Termination section of this page
Central Coast Water Board Cannabis Regulatory Program Overview
Welcome to the Central Coast Regional Water Quality Control Board's (Central Coast Water Board) Cannabis Regulatory Program webpage. The Central Coast Water Board regulates discharges from irrigated agricultural lands to limit environmental damage associated with commercial crop production. This applies to owners and operators of irrigated lands used for the commercial crop production of cannabis.
The amended Cannabis Cultivation General Order and adopted documents effective as of April 16th, 2019:
History of the Cannabis General Order and Cannabis Policy
On October 17, 2017, the State Water Board adopted the Cannabis Cultivation Policy - Principles and Guidelines for Cannabis Cultivation (Cannabis Policy) and General Waste Discharge Requirements and Waiver of Waste Discharge Requirements for Discharges of Waste Associated with Cannabis Cultivation Activities (Cannabis General Order). The State Water Board established this new regulatory program to address water quality and quantity issues related to cannabis cultivation and to meet the directives of Senate Bill (SB) 837 (Statutes 2016, Chapter 32, Committee on Budget and Fiscal Review) and the Medicinal and Adult-Use Cannabis Regulation and Safety Act (MAUCRSA; Senate Bill 94 [Statutes 2017, Chapter 27, Committee on Budget and Fiscal Review]).
On December 18, 2017 the State's Office of Administrative Law approved and put into the State's regulatory code the State Water Board's Cannabis Regulatory Program.
On February 5, 2019, the State Water Resources Control Board adopted the proposed updates to the Cannabis Policy – Principles and Guidelines for Cannabis Cultivation under Resolution No. 2019-0007. The updates were focused on requirements related to tribal buffers, indoor cultivation sites, onstream reservoirs, and winterization requirements.
The state's Office of Administrative Law approved the updates to the Cannabis Policy, which is now in effect as of April 16, 2019.
Application Portal
The Water Boards Cannabis Regulatory Program Portal hosts several survey-style applications within one convenient online dashboard.


| | |
| --- | --- |
| To apply for coverage under the General Order... | Complete the "Cannabis General Order and Small Irrigation Use Registration Portal" survey. |
| To submit Annual Monitoring Reports... | Complete the "Online Cannabis Water Quality Monitoring & Reporting Program" survey. |
| To submit a Notice of Termination... | Complete the "Cannabis Order Termination Request Form" survey. |
Annual Reporting
Annual reports are due March 1st for all Tier 1 and Tier 2 cultivators. To submit the annual report, log in to the Cannabis Regulatory Program Portal and complete the "Online Cannabis Water Quality Monitoring & Reporting Program" survey.
A virtual annual reporting workshop was hosted by the Central Coast Water Board on February 19, 2021 from 10 am-12 pm via Zoom. A recording of the workshop can be accessed here: Click on Link.
Annual Reporting Workshop Materials:
Workshop Handouts
Mock Nitrogen Records for Demonstration
ELAP Laboratory Website Handout
Technical Reporting
Technical reporting is required for cannabis cultivators based on operation size and site characteristics. Templates and reporting guidelines are linked below.
Technical Report Templates:
Technical reports are due within 90 days of the issuance of a notice of receipt.
Nitrogen Management Plan Template
Technical Reporting Guidelines:
Site Erosion and Sediment Control Plan
Disturbed Area Stabilization Plan
Termination
If cannabis cultivation at an enrolled site is ending, the cultivator should terminate enrollment under the Cannabis General Order. The cultivator must also clean up the site, remove cannabis-related materials, and make sure that the land is stable and not at risk of future erosion issues. Please refer to the document linked below for guidelines about how to terminate enrollment under the Cannabis General Order:
Guidelines for Terminating Enrollment Under the Cannabis General Order
Resources
Cannabis Cultivation FAQs
Frequently asked questions on the Cannabis General Order, Cannabis Policy, inspections, enforcement, and other topics.
Cannabis Regulatory Program Application Process FAQs
Frequently asked questions about applying for enrollment under the Cannabis General Order, based on common application issues.
Winterization Workshop
A winterization workshop was hosted by the Central Coast Water Board Cannabis Program and the Upper Salinas-Las Tablas Resource Conservation District on October 21, 2022. The workshop covered requirements and best practices for preventing erosion and sediment transport on cannabis sites during the winter period. A recording of the workshop and copies of the PowerPoint presentations can be accessed at the links below:
Cannabis Cultivation Permitting Workshop
A virtual cannabis cultivation permitting workshop was held on July 22, 2020 with presentations from Department of Cannabis Control, California Department of Fish and Wildlife, State Water Board, and other agencies. The workshop can be viewed here.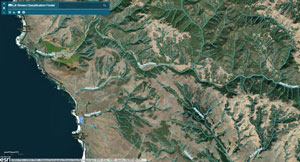 This map is intended to help cannabis cultivators determine the classification of waterbodies and watercourses near their cultivation sites. The classifications in the map are based on data provided by the United States Geologic Survey National Hydrography Dataset and are one source of information used by Water Board staff to evaluate past and current watercourse classifications and determine setback requirements. This map is provided for informational purposes only and does not determine the final classification of waterbodies under the Cannabis General Order. Please contact Water Board staff for more information on how waterbody classifications affect enrollment in the Cannabis General Order.
Resources for Identifying and Assessing Best Management Practices
Watershed Best Management Practices for Cannabis Growers and Other Rural Gardeners
Cannabis Cultivation Best Management Practices Flyer
Handbook for Forest, Ranch & Rural Roads
Cannabis and Pesticides
CalRecycle Cannabis Waste Questions and Answers
Contacts for Permitting and Technical Assistance
Cannabis Cultivation Contacts and Resources: A list of county contacts, government agencies, non-profits, industry groups, and more.
Technical Assistance Providers: A list of individuals who can assist growers with technical reports and environmental compliance, particularly with meeting the requirements found in Attachment A of the Cannabis Policy. 
Disclaimer: These lists are intended to serve as a resource for cultivators, not an endorsement by the Water Board. If you would like to be added to either of these lists, please email centralcoast.cannabis@Waterboards.ca.gov.
Map of the Regional Boards
The Cannabis Regulatory Program is implemented by the Regional Boards. A map of Regional Board boundaries can be found here.
Cannabis Priority Watersheds
The State Water Board in coordination with the California Department of Fish and Wildlife (DFW) have identified Cannabis Priority Watersheds throughout the state that are of special environmental concern and are at increased risk of environmental impacts due to cannabis cultivation activities.
Legislation
In October 2015, the Governor signed into law the California Medical Cannabis Regulation and Safety Act (MCRSA), which consists of three bills (Assembly Bills 243 and 266, and Senate Bill 643) that created a licensing and regulatory framework for medical cannabis. In November 2016, California voters voted in favor of Proposition 64, which permits non-medical use of cannabis for adults over the age of 21. The passage of this new legislation regarding cannabis use, distribution, manufacturing, cultivation and transportation brings with it new regulatory requirements.
Cannabis cultivators are now required to obtain state and local cultivation license and must meet all state and local environmental regulations including the Water Code, Basin Plan, and Clean Water Act. Cannabis cultivation can cause significant environmental damage, including discharges of polluted wastes to surface water and groundwater, erosion and sedimentation, and illegal diversions of surface water. The environmental provisions of MCRSA and Prop 64 are more important now than ever to limit environmental degradation associated with cannabis cultivation as the new legislation will bring existing cultivators into a regulatory framework and new cultivators will join the growing market.
Cannabis Fees
On September 22, 2021 the State Water Board adopted the fiscal year 2021/2022 Water Quality Fee Schedule. To determine the correct fee amount, refer to the Tier and Risk Designation, or Waiver Type listed on the Notice of Receipt (NOR) emailed to the applicant upon submission of the completed application, or listed on an enrollees Notice of Applicability (NOA).
State Water Board Fees website additional information including credit card payment information (Now Accepting Credit Cards) and stakeholder workshops on fees.
Subscribe to our Cannabis Cultivation email list to receive notifications and the latest updates.
Contacts
Find Your Staff Contact
Use this map tool to find the staff person who oversees your cannabis site. If you are located in an area with a temporary staff vacancy, contact the general program email address or phone number to find the staff person who is temporarily overseeing your site.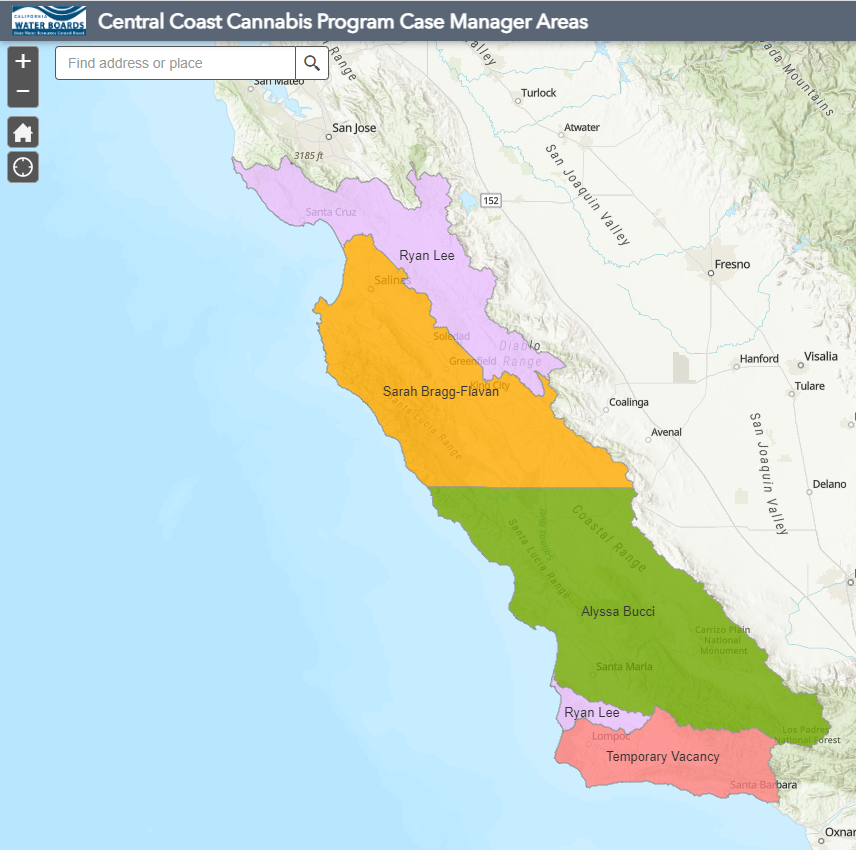 Regional Board Contacts
State Water Board Contacts