CONNECT WITH US &nbsp
STORMS - Strategy
QUICK LINKS
STORMS Home Page
Projects Page
STORMS Page
Potential Pilot Projects Page
Seminar Series Page
Implementation Committee Page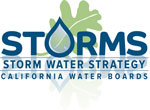 Strategy
FEEDBACK
You may provide feedback on the Storm Water Strategy by submitting the STORMS Feedback Form.

Project 4a: Implement Senate Bill 985 - Incorporate Principles of Storm Water Resource Plan Guidelines into Storm Water Programs
What's New
Update: 09/01/16
Implementation grant applications are in review. The Final Grant Funding List release date is anticipated for November 11, 2016. See the Department of Financial Assistance website for more information.
STORMS Objective 4
Establish Financially Sustainable Storm Water Programs
STORMS Goal 1
Change the Perspective that Storm Water is a Waste or Hazard, and Treat it as a Valuable Water Resource
STORMS Goal 2
Manage Storm Water to Preserve Watershed Processes and Achieve Desired Water Quality Outcomes
Project Information
Start
2016
Completion
2018
Prerequisite
None
Executive
Sponsors
Jonathan Bishop
Lead Staff
Jeffrey Albrecht
(916) 322-8569
Support
Staff
Performance Metrics
Attachment