SWAMP IQ Geospatial Information
---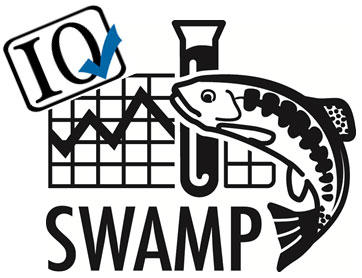 About Geospatial Information
Integrity of geospatial representativeness for SWAMP sampling sites is critical. The results of all the effort and resources that go into surface water studies can only be synthesized into useful information when it is properly representative. This begins with its location. Taking the necessary steps to ensure that all geospatial information is of known quality is an important part of field sampling.
---
Quality Assurance and Quality Control
Quality assurance and quality control QAQC practices for geospatial data are:
The accurate and timely documentation of information collected in the field in electronic and paper records
Second or third-party auditing of such records
Consistent and conscientious use of procedures and protocols to ensure integrity and data quality
The collection of quality-control data.
To exemplify the importance of assuring the quality of geospatial information consider the following: A significant portion of SWAMP sampling sites are derived at random from a Geographic Information System (GIS). For probabilistically selected sites (i.e., those to be sampled as part of an ambient assessment study), target coordinates are those that have been selected at random, with the goal of generating statistical condition estimates for the region based on the aggregated study data. Because GIS information about stream locations is imperfect, the target coordinates may not fall exactly on a streambed, but rather nearby, requiring a shift away from targeted coordinates in order to correspond to the nearest streambed. It is important to record on the field sheet the actual coordinates of the sampled site because of the potential discrepancy between the targeted coordinates and where sampling actually occurs.
Training
Proper training ensures accurate data collection. Training in GIS and Global Positioning System (GPS) receiver use will contribute to the quality of geospatial information being collected. In addition to manufacturer documentation for GPS receivers, the SWAMP Field Methods Course has thorough explanations of procedures which includes site reconnaissance. This narrated video course introduces the concepts used in SWAMP sample collection and field analysis. The course includes the following seven modules: Reconnaissance, Water Quality Measurements, Flow Measurements, Water Sampling, Sediment Sampling, Sample Handling and Shipping, and Biological & Physical Assessments. Additionally, SWAMP IQ recommends pursuing training accessible to them in the fields of GPS receiver procedures and GIS.
The link to the training courses is below:
Field Methods Online Training Course
GPS
Proper use of GPS receivers is critical to collecting quality geospatial information. It is important to consider the level of accuracy and resolution that will be required by your study in order to answer the questions being asked. It is also important to consider factors that may interfere with the GPS and the effect it might have on the studies requirements. Several factors affect the accuracy of readings from GPS units in the field. Canopy cover is one factor that can adversely affect accuracy. It can reduce the number of satellites the receiver can use and can cause the signal to bounce off nearby surfaces before reaching the receiver, causing errors in location. Steep canyons are another factor and can limit the number of satellites the receiver can use, causing poor satellite geometry. To mitigate these factors, it is important to use best practices when collecting data with any receiver under any condition. Given the wide range of equipment available it is important to select a device with the resolution required to meet your study needs and that it is functional enough to meet the accuracy needed under the conditions it is being used. For information regarding best use practices for your device please refer to the manufacturer's guidance or device manual for specific instruction.
Additional SWAMP quality assurance
2016 SWAMP Quality Assurance Program Plan (QAPrP): This document establishes the overarching quality assurance requirements for collecting SWAMP data.
Measurement Quality Objectives (MQOs): In order to promote precision and reduce bias, SWAMP has established field and laboratory guidelines for various analytes. Dubbed "Measurement Quality Objectives (MQO)," these guidelines contain both recommendations and requirements for sample collection and laboratory analyses.All of SWAMP's MQOs, including those developed for field measurements can be accessed in the link below.
---
Data Management
Data management is another vital component of ambient monitoring that incorporates quality assurance measures such as uniform business rules and data review. These strategies ensure the usability of the data generated for a project. For SWAMP, the use of GIS helps develop a better understanding of sampling locations and furthers analysis. Providing information from the different GIS layers increases the usability of data associated with stations for reporting and applications. To ensure data integrity, this information is to be populated by the agency that has created the station.
SWAMP GIS
SWAMP makes available several shapefiles to be used to populate its templates. Shapefiles are a file format for geospatial vector data for use in a GIS. The vector data in these files may be points, lines, and polygons which may describe geographic features such as wells, rivers, and lakes. The below shapefiles are available for use in software such as ArcGIS to help populate fields in the SWAMP Station Template. These shapefiles have data fields that are associated with Counties, Ecoregions, Index of Biological Integrity, Hydrologic Basin information (HBASA), and the National Hydrography Dataset (NHD). There are several open source and freeware GIS applications that can be used as alternatives to common software. Some of which are linked below in the "Additional Resources" section.
Layers used in the SWAMP Station Template
Business Rules
Standardized language and formatting promotes consistency and prevents the misinterpretation of data. Business rules establish a uniform method of data entry that enables both project staff and end users to easily understand test results. It is important to coordinate with SWAMPIQ staff when developing vocabulary to be used in the SWAMP Station Template.
Data Review
Data should be reviewed by all applicable project staff, beginning with the field crew and ending with the project managers and QA officers. This verification process ensures that station details, such as the latitude, longitude, and waterbody are recorded properly. In addition to examining these elements, reviewers confirm that all appropriate business rules have been followed.
---
SWAMP Resources
---
Additional Resources
State Water Resources Control Board – Data Maps
United States Geological Survey – Data and Tools
Environmental Systems Research Institute – Online Training
Geographic Resources Analysis Support System – (GRASS) is the public domain GIS software application originally developed by the US Government. GRASS is probably the most well-known open source and original GIS software applications. GRASS is a raster-based GIS, vector GIS, image processing system, graphics production system, data management system, and spatial modeling system. GRASS can be downloaded for free.
MapWindow GIS – an open source GIS application that can be extended through plugins.  The application is built using Microsoft's .NET
OpenJUMP GIS - an open source GIS written in Java through a collaborative effort by volunteers. Formerly known as JUMP GIS, the application can read shapefiles and GML format files.
---
Contact Us
For questions regarding these data types, please contact:
Let us know how we can improve our webpage.
Please send comments and suggestions to the Office of Information Management and Analysis Help Desk: OIMA-Helpdesk@waterboards.ca.gov
Are you a SWAMP member? Click here for internal SWAMP IQ Center resources
---
SWAMP Partners